A History of Modern Dance with Jamie Williams
What: A series of three one-hour lecture/conversations on modern dance history with dancer and professor of dance, Jamie Williams.
When: Monday evenings, 7-8 pm, October 5, November 2, and December 7, 2020.
Where: Your screen of choice.
How: Register here. Cost is $10/class.
Why: Modern dance pioneers were masters of the Creative Reset.
The earliest modern dance artists knew that existing forms of dance – primarily ballet – were insufficient to explore and express conditions in the early 20th century. It was an era of seismic recalibration in all areas of human culture. These artists were working at the time of Freud, Einstein, and early Picasso, and their ideas were no less self-consciously revolutionary: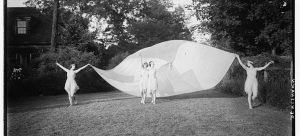 "I bring you the dance. I bring you the idea that is going to revolutionize our entire epoch."
Isadora Duncan (1877-1927)
"We should realize in a vivid and revolutionary sense that we are not in our bodies but our bodies are in us."
Ruth St Denis (1879-1968)
Contemporary and post-modern dancers also recognized the need to drop what is non-essential and do a creative reset, to accept and stretch into the new senses and modes that reveal themselves:
"I think of dance as a constant transformation of life itself"
On randomly chosen movements: "…I would always try it because the mind will say `you can't do it,' but more often than not you can, or you see another way, and that's what's amazing. In some cases it's impossible, but something else happens, some other possibility appears, and your mind opens."
Merce Cunningham (1919-2009)
"Making dances is an act of progress; it's an act of growth…"
Alvin Ailey (1931-1989)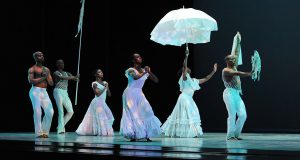 "I realized that carrying around old information, trying to get everything in, and still be in the moment just doesn't work."
Meredith Monk (1942)
Meredith Monk gives us some direction on finding the "set" part of "reset," a way to recognize when we have hit that sweet spot of a new "sense" – to take Olafur Eliasson figuratively – that will work for us in our changed environment:
"That inner voice has both gentleness and clarity. So to get to authenticity, you really keep going down to the bone, to the honesty, and the inevitability of something."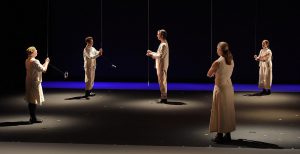 Dancers have studiously refined senses, and no one literally or figuratively pivots with grace and strength like a dancer, so I can't wait to have my mind blown by the facts, the philosophies, the responses, the lives of modern dance masters. 
*I tried to bold every synonym of RESET in this post. Did I get them all?*
Featured image: Meredith Monk, "On Behalf of Nature," Brooklyn, 2014, photo by Steven Pisano, courtesy of Brooklyn Academy of Music