Welcome to Frame Dance, I am so glad you are here!  
My name is Lydia Hance and I am the Founder and Artistic Director of Frame Dance. I still remember the first time I asked my mom to take me to a ballet class. I was 7 years old, and I fell in love! I dedicated my childhood, teenage years, and college experience to becoming a professional dancer. It was my greatest joy, and at the same time, my greatest heartache.  
My education was filled with delight and excitement, challenge and growth. It was excellent, professional training. I also experienced harsh criticism, an unhealthy attitude toward the body, and the pressure to fit into someone else's mold.  I had a desire to reenvision dance training and performance into something empowering, smart, and accessible.  
In 2010, after performing professionally in Houston and abroad, I decided to establish Frame Dance and create a new model for dance education, one where dance is welcoming to all, healthy, loving, and exciting. 
We are a studio that honors YOU as the artist. We inspire and equip you to grow to your fullest potential, embracing your unique journey and individual expression of dance.  
When you join Frame Dance, you join a community of people— beginners through professionals building culture through dance.  
You already have everything you need to begin your dance journey. Find out where dance will take you…  
Lydia Hance
Founder & Artistic Director of Frame Dance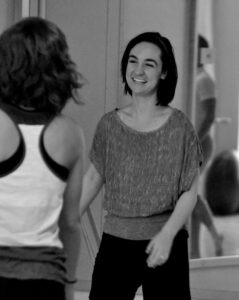 THE FOUNDER
Dubbed Houston's "queen of curious locations," Lydia Hance, is the Founder and Artistic Director of Frame Dance and the Chief Curator of Frame x Frame Film Festival. She has been named an Emerging Leader by Dance/USA and has led Frame Dance in performances and dance films from the Galveston pier onto the METRO light rail, in the backs of U Haul trucks, downtown tunnels, parks, and museums, stages, and warehouses throughout Texas for the past twelve years. Dance Magazine says, "Hance is a master of making dances in concert with a specific environment to both an invited and random audience."
A champion of new music composers, her work deepens interdisciplinary and multigenerational collaborations, and investigates the placement of dance in our lives. Her work has been funded by city, state, and national foundations. She is a choreographer, curator, filmmaker, educator, and dance writer originally from the California Bay Area. Her screen dances have been included in festivals across the world including most recently the American Dance Festival (North Carolina), Lady Filmmakers Festival (Beverly Hills, CA), Fuselage Dance Film Festival (Seattle, WA), and the 3 Minute Film Festival (Santa Barbara, CA).
Hance holds degrees in Dance Performance and English Literature from SMU and trained at the Taylor School, Graham School, Tisch School of the Arts, Limon Institute, and SMU and has performed locally, nationally, and internationally with professional dance companies. She has served on artistic advisory boards of Fresh Arts and Diverse Works and has been a curator of the Third Coast Dance Film Festival, Dance Alabama Film Festival, and the EnCore Dance on Film Festival.
PROFESSIONAL DANCERS
Our six acclaimed professional dancers co-create performances with Lydia Hance. Since May 2010, Frame Dance has presented over 40 live performances in the Houston area, all original works by Frame Dance with guest collaborators who are artists from different genres — painter, photographer, filmmaker, poet, playwright, composer, chef and musician. Unique venues are the hallmark of Frame Dance performances including the Contemporary Arts Museum Houston, Jones Plaza, Miller Outdoor Theatre, Pennzoil Place, Photobooth on Montrose, Port Boliver Ferry, the METRORail, the inside of U-Haul trucks, art galleries, City Hall, and even a claw foot bathtub. Each performance features original musical compositions by emerging composers.
FRAME X FRAME FILM FEST
From Argentina to Ghana and Singapore to Bulgaria, Frame x Frame Film Fest (FXF) has featured hundreds of artists from more than twenty different countries over the past four years. FXF presents internationally acclaimed artists alongside homegrown Houston artists in a powerfully eclectic festival of screen dance.  At the intersection of film and dance, this genre is on the forefront of innovation and storytelling in dance. Frame Dance presents this festival annually, along with our curriculum for the Houston Independent School District to grow and nurture emerging screen dance artists as young as middle school. Frame Dance's Frame x Frame Film Fest is co presented by the Houston Ballet and the Contemporary Arts Museum.
THE COMPOSER COMPETITION
Frame Dance is committed to using new, original music in all its productions. Frame Dance has held an annual competition since 2011 to select pieces of music for its upcoming seasons. The competition offers outstanding, emerging composers a forum for their recognition as well as an opportunity to collaborate with the dance performance company. The winning composer's music becomes the basis of a new original work at Frame Dance – film and/or live performance. This successful competition has attracted exciting new composers from the U.S. and across the world to collaborate with Frame Dance. Interested composers can find the competition can be found on Submittable.