WELCOME TO FRAME DANCE


Frame Dance Productions is dedicated to bringing the transformative power of modern dance to Houston through radically inclusive dance education, collaborative creation, and public-facing performance.  Working in partnership with and in service of our community, Frame Dance cultivates the spiritual, intellectual, emotional and physical well-being of people of all ages through our heart-driven and innovative programs.
As thought leaders in dance education for all ages, Frame Dance has developed inclusive, empowering curricula that focus on developing socio-emotional skills, resilience, and creativity. Frame Dance offers a variety of dance classes for children, adults, and families taught by highly experienced instructors and company artists at its studio.The organization also partners with HISD to bring an innovative screen dance curriculum to young students, and continues to provide opportunities for budding artists to showcase their work at its internationally acclaimed Frame X Frame Film Fest.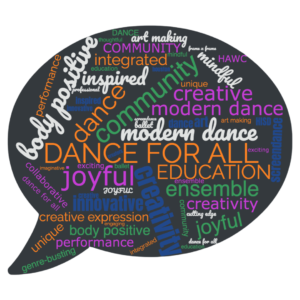 Since its inception, Frame Dance has produced and performed over 40 site-specific pieces in collaboration with some of Houston's most iconic and unique venues, including the Metrorail and the downtown tunnels. Frame Dance has partnered with or been presented by METRO, Houston Museum of Natural Sciences, Houston Parks Board, Texas Asia Society, Plant It Forward Farms, CORE Dance, Rice University, Houston Ballet, 14 Pews, Aurora Picture Show, Contemporary Arts Museum. Tens of thousands of Houstonians have had an artistic encounter they otherwise would not have had because of these performances.
In keeping with its mission of expanding who dance is for and where dance takes place, Frame Dance leads a Community Ensemble made up of dancers from ages 12-99, providing fertile soil for collaboration, exploration, and connection across generations. Frame Dance hosts a monthly Creativity Club that invites the community to share ideas in an inclusive, compassionate, and joyful environment. In addition, Frame Dance serves the Houston Area Women's Shelter, using dance as a way to promote self-awareness, encourage self-expression, and support creative risk in a safe and welcoming environment.
Frame Dance is a non-profit, 501c3 organization. Support our mission to bring joyful, transformative, radically inclusive movement to our community!