Free Events Thursday
Latin Beats
Friday, May 30th Downtown Aquarium from 7 pm – 10 pm and Saturday, May 31st, City Center from 7 pm-10 pm
Enjoy a live band (last Friday each month) plus free salsa dance lessons from professional dancers.
Price: FREE!!!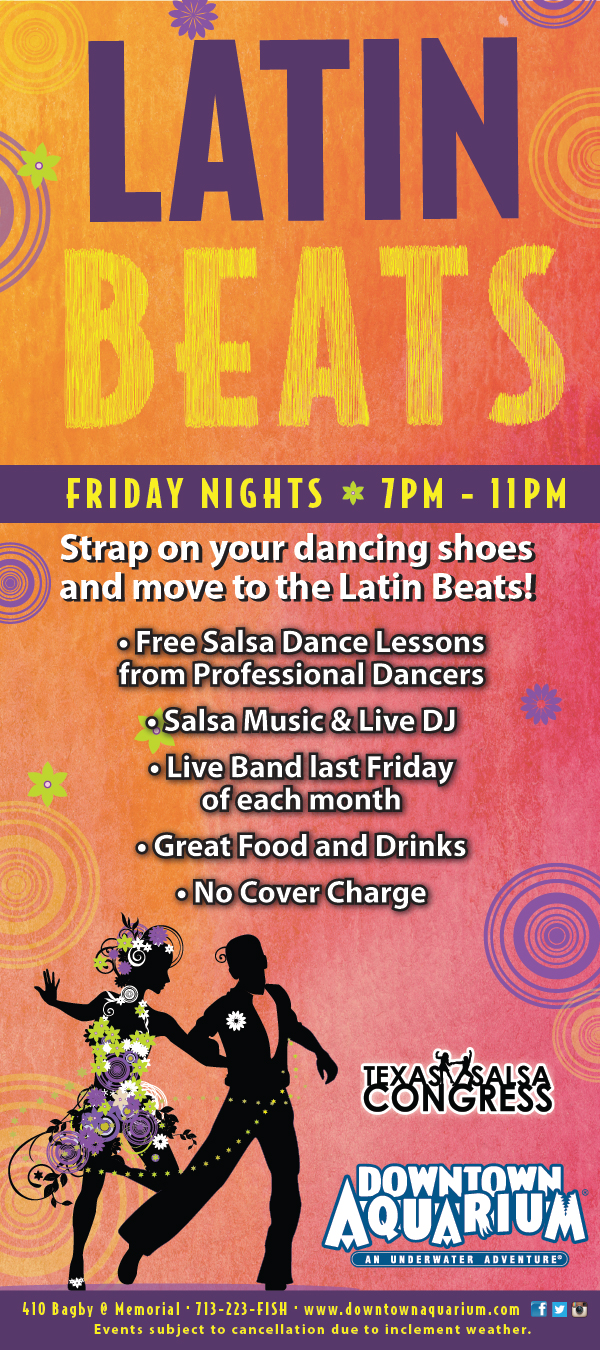 Dance Under the Stars 
Friday, May 30th Sugar Land Town Square from 7:30 pm – 9 pm
Grab your dancing shoes and enjoy outdoor dance lessons with Fred Astaire instructors. This month's dancing features Splash Band, a Motown and Oldies band.
Price: FREE!!!
Breakfast Yoga Club Houston 
Sunday,  June 1st at Asia Society Texas Center from 9 am – 11 am.
Soothing music and breakfast accompany the yoga.
Price: FREE!!! (with reservations)
Sandcastle Competition
Saturday, May 31, Galveston from 10am- 4:30 pm.
Galveston East Beach, 1923 Boddeker
The 28th year of this friendly competition pitting business teams against each other. The American Institute of Architects (AIA) annual Sandcastle Competition in Galveston is like nothing you've seen!
Price: FREE!!! (Parking is $10)
Learn Improv 
Friday, May 30th at 7:30 pm.
Station Theater
1230 Houston Ave
Take a free Improv class, thanks to Station Theater's Intro to Improv. All Intro students are  invited to stay to watch Supernova Armando show for free ($6 value), a fast-paced comedy show with a guest monologist.
Price: FREE!!!
Walk the Streets
Sunday, June 1st, Studemont to Milam (Market Square Park) from 11 am – 3 pm.
Closed to vehicles, folks can walk, bike, dance and socialize their way down the road. Market Square Park will have several businesses onsite: Houston B-cycle, Bayou City Outdoors, Bike Barn, Buffalo Bayou Partnership and the Menchie's Frozen Yogurt food truck!
Price: FREE!!!
Free Events Thursday