MFA Monday: Little and Big Things
Happy Monday Framers! Today we kick off a new MFA Monday arc written by the lovely and immensely talented Amanda Jackson!
MFA: Little and Big Things
Part 1 – Penguins, Collaborators, and Community… Oh My!
We've all seen him awkwardly permeating the web, penguining around in various social situations. He goes by Socially Awkward Penguin. While in grad school, my colleagues and I turned to the Internet abyss of memes and YouTube a little too often to escape stressful realities and enter other worlds of shock, awe, and wit. These moments of escaping together created bonds between us, albeit strange ones, that filtered into movement and theory classes, rehearsals and feedback sessions, and potlucks that doubled as times for mind-mapping. I would be withholding information if I didn't tell you that some Internet gems even made appearances in our choreography.
Back to the penguin meme: The poor penguin offers an "Oh God No" reaction to a teacher that states, "Ok class, find a partner." Although this is quite funny to me now as a teacher, the penguin's offerings were slightly less relatable during grad school. Our cohort's unique bonding experiences paired with TWU's strong focus on Contact Improvisation made finding a partner more exciting than dancing solo.
We learned more about each other, through what I'll call spontaneous movement puzzles, in extremely rigorous and generous class environments facilitated by our professors. We also learned through witnessing our partners' thought processes and reactions as well as how they prefer to move and be moved, even beyond a physical sense. This is what drew many of us to the MFA program and to each other.
Back in 2010 a group of ten dancers from TWU, all in various stages of our MFA cycles, came together to form Big Rig Dance Collective – a Denton-based group that is now co-directed by myself, Whitney Boomer, Crysta Caulkins-Clouse, and Lily Sloan. The impetus for our collective was to create more outlets beyond the academic setting to develop a deeper collaborative process. Big Rig was also experimenting with new methods of inviting communities into our process through performances and workshops. We ultimately wanted more of everything and were eager to share with everyone! (As if our graduate work didn't keep us busy enough.)
I share this with you because I think there is something intriguing about our grad school environment that encouraged our desire to connect communities through dance. Also sprouting from this environment were Muscle Memory, CholoRock, and Simple Sparrow. I am reminded of the energy that we all brought into this environment – It felt electric and contagious, an infinite cycle. In my mind, we fueled the environment just as much as it fueled us.
So in the spirit of community, I'll leave you with some insights from my friend/colleague/co-director/fellow kitchen improviser:
"After I graduated and began working as an adjunct professor in the community, I was still as driven as ever to work in Big Rig, but I felt the harsh reality of being removed from the community from which Big Rig was born. All of my friends were still in grad school, and I was out. I missed out on the inside jokes, the basement banter, and simply the wonderful treat of moving and dancing with friends on a daily basis. It was very, very hard.
Throughout the continual journey of figuring out what we want Big Rig to be in our lives, I have realized that community is first. This sense of community might mean remembering to see each other as friends first. It means developing a rich and rigorous dance practice with each other, in the midst of our crazy schedules and busy lives. I feel best when I stop and remember the first reason that we ever started collaborating: we liked each other. We liked each other's ideas, energy, spirit, and creativity. Out of that likeable attraction comes some of our best work." – Lily Sloan
So as you are researching MFA programs, I think it is equally important to research the MFA students. Are they doing work that interests you? Are they welcoming and supportive of what you can bring to the cohort? Are they people with whom you can spend long nights in the basement watching ridiculous YouTube videos? These MFA students can become some of your strongest supporters and collaborators throughout your time in grad school and beyond.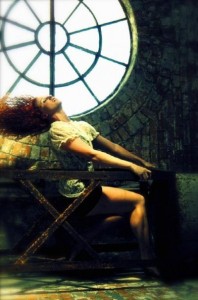 Amanda Jackson holds an MFA in Dance from Texas Woman's University. She is a performer, choreographer, educator, stylist, and avid cooking improviser. Her work has been presented across Texas, New Mexico, Oklahoma, and Louisiana with a notable experience at Harvard University with collaborator, Matthew Cumbie. Amanda is Co-Director of Big Rig Dance Collective in Denton, TX and Adjunct Professor of Dance at Tarrant County College Northwest. www.ajdance.org
MFA Mondays