Thank you to all who came to our Dinner / Dance 19 event last Monday.  It was SO much fun.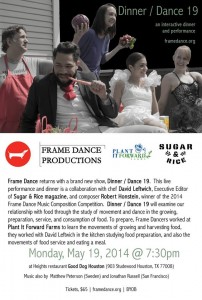 Thank you to the chefs, David Leftwich (Sugar & Rice); Adam Dorris (Revival Market) and Richard Knight (Down House).  The talent in that kitchen was explosive.  I encourage you (yes, REALLY) to go to their restaurants and to get a subscription to Sugar & Rice magazine.   I have one and it is like Christmas morning when each edition arrives.  Beautiful photography and fantastic articles.  #framehubby and I have been to Down House twice in the past week (one of our favorites– and one of the best place to get cocktails in Houston).  Revival Market is another one of our favorites: either to purchase the BEST meat (bacon, anyone?) if we're cooking for someone or for a beautiful breakfast/lunch/brunch with fabulous coffee, butcher shop and grocery market.  And we would be amiss to neglect the super cool Good Dog Houston, where we held the event.  Another local business that we're nuts over.  Try the Sloppy Slaw Dog.  Trust.
Yet another reminder of the very cool and creative people in Houston.  The secret is getting out, and traffic is increasing.
Nancy Wozny was in attendance to review Dinner/Dance 19, and here it is.  Blushing over this part: "I do know that Hance and her "framers" are doing some of the most compelling and entertaining work in Houston."
Be sure to check it out in the upcoming Arts and Culture Texas.  We'll be at the June release happy hour, will you?
These photos are by Jonathon Hance.
Stay tuned for:
Children's Classes
Framing Bodies: SHAMED (film)
Imaginary Spaces with Charles Halka (Fall 2014)