MFA Monday: Matthew Cumbie
Happy Monday dear Framers!  I am excited to post this because I have so enjoyed reading Matthew Cumbie's articles.  But it's the third of his arc, so that's a bummer.  But in the meantime, enjoy…
"Small Dances About Big Ideas," and the importance of story telling*
So far, when writing these blog entries I've chosen to tackle topics that I've felt strongly about. I haven't talked directly to my experiences in graduate school, or before or after, very much at all; a conscious choice of mine, most certainly. But in doing this I realize that I haven't given much insight into who I am or what I do, merely glimpses; I haven't shared my story, and frankly, I believe that everyone's story matters. It's this belief that shapes much of what I do today and has led me to where I am now. It's also this belief that, for me, contextualizes the larger artistic questions that we as a community find ourselves asking and the research we do to explore those questions; in plain, within these personal stories lie universalities and shared experiences that ground what we know and how we come to know that.
My current story picks up in Washington, DC, where I am a Resident Artist and the Education Coordinator for Dance Exchange, an organization rich in history and rooted in the belief that everyone's story matters and that everyone can and is encouraged to dance. The path taken to this fortuitous place has been one of much meandering, difficulty, and perseverance (and a bit of good fortune). Truly, until my time in graduate school I had a very small understanding of what the organization did and does still; then it was the Liz Lerman Dance Exchange and I distinctly remember at one point encouraging a peer of mine to audition but not really envisioning myself involved in such a process. After finishing my MFA, however, I decided to get to know the organization better and enrolled in their Summer Institute, a condensed amount of time in which participants work closely with the company learning about their collaborative process and tools and history while collectively making and sharing. I fell in love and almost immediately knew I had found a home, one in which I was enlivened and engaged in a way that I had been searching for.
While in graduate school, as I'm sure many can attest to, one must really be focused on the work that is happening. This is particularly important if the work you're doing is challenging and valuable, as I think most work at the graduate level should be. For me, graduate school became everything. I felt challenged on all fronts and grew three dimensionally in a way that I had never before experienced and with such rapidity that at times it felt almost impossible to keep up. It was probably one of the most difficult and exciting points in my life. I cried a lot. I laughed a lot. And I learned more about myself and my craft than I could probably ever explain on paper. I lost a relationship, and at that point particularly, poured myself without abandon into my work. My dog Lucas served as my anchor at home and my friends and peers within my program kept me afloat. I don't regret any of it, but as I exited that environment and found myself back in a world outside of academia I realized how disproportionate my life had become.
It was at this point that I began to want and need and work towards finding a way to compromise the distance I felt between my artistic self and my everyday self. I began to question the processes that I was engaged in, wondering why I was doing this work and of what value did it have for others besides myself. What good was I doing for anyone else but me? What did I value in both my art making and my life making that I could harness in a process and feel satisfied with? How could I participate in a rigorously full artistic process and a rigorously full life simultaneously? These questions felt important in lessening that gap. When I started my work with Dance Exchange at that Summer Institute, and subsequently on some residencies that I was invited to help facilitate, answers to some of these questions manifested themselves either in the work that was made or in the relationships that formed, and I have a feeling it has to do with the alignment of my values and the organizations' values and in the way that this process and work asks me to bring my whole self regularly.
As I mentioned before, at Dance Exchange we believe that everyone's story matters and that everyone can and is encouraged to dance. Because of this philosophy, and our constant questioning of who gets to dance, we are committed to making space for all to participate in the making of art; from trained professionals to unexpected movers and makers, criss crossing all disciplines and engaging any who are interested in questioning and creative research. It's in this place of exchange of ideas and information that I feel my many selves, Matthew the artist/human, fully engaged and aware. It's in this place, where 90 year old women and men move with teenagers and twenty something year olds as a way to know and relate, that I find resonance in what I do and how I do it. It's in this place that I have found a bridge between my many selves and feel more able to work on lessening that gap between the artistic and everyday.
To take a more macroscopic view, I want to leave you with this. In my personal experience, and in talking with many, many peers, I have found that leading full artistic lives and full everyday lives to be sometimes difficult (one could also change the word 'artistic' to 'any other career'). But both are important. An integral step in doing that is finding a process or group or company or school or ensemble that continually asks you to bring your whole self, your many beautiful selves, to the work. It's in this exchange between your own ideas and interests and this exchange between you and others that richness can be found and that much can be learned. Sometimes this work is hard; that's when the work can be the most rewarding and relevant.  One of my former graduate professors once spoke of her 'pedagogy of discomfort,' a term that I have come to love. Although probably different in meaning, I have found that when situations or experiences seem to be uncomfortably hard or trying, it's through the perseverance and working through those that has proved to be the most illuminating.
There's something in here related to my previous posts about value and pausing, and in the combination of these 3 writings that I think speaks to carving out sustainable lifestyles as people that are committed to processes that might sometimes be difficult, especially in regards to an increasingly connected, fast-paced, and ever changing world. I hope that, wherever you're at on this journey, you have found some nugget of something worthwhile in this and that applies to your story and story telling. It's these stories that we carry and share that make our work worthwhile, that allow us to better our art and our lives, that allow us to gather as a community and work towards our individual and shared goals. It's these individual small dances that we make which contribute to our collective big ideas.
* "Small Dances About Big Ideas" is a work by Liz Lerman and the Liz Lerman Dance Exchange which premiered in 2005. It is not at all related to the topics discussed above other than the connection of Dance Exchange.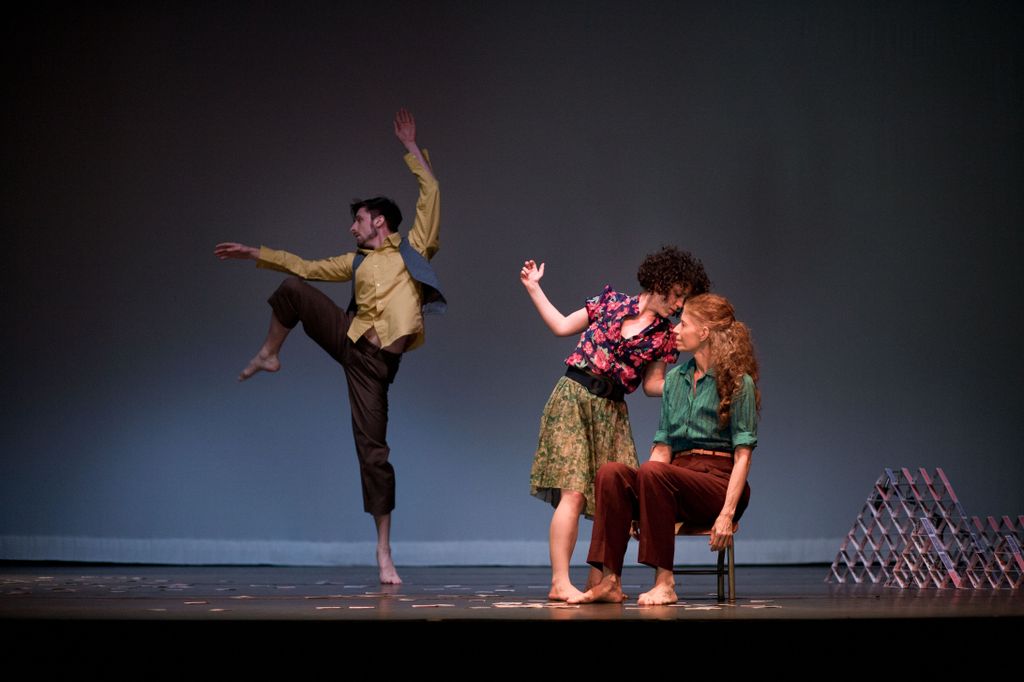 Matthew Cumbie is a professional dance artist based in Washington, DC, and is currently a Resident Artist and the Education Coordinator for the Dance Exchange. As a company member with the Dance Exchange, he works with communities across the United States and abroad in collaborative art-making and creative research as a means to further develop our understanding of our selves and community in relation to the environment around us. He has also been a company member with Keith Thompson/danceTactics performance group, and has performed with Mark Dendy, the Von Howard Project, Sarah Gamblin, Jordan Fuchs, jhon stronks, Paloma McGregor, and Jill Sigman/thinkdance. His own work has been shown in New York, Texas, New Mexico, Louisiana, and at Harvard University. He has taught at Dance New Amsterdam, Texas Woman's University, and Queensborough Community College. He holds an M.F.A. in dance from Texas Woman's University.
MFA Mondays