MFA Monday: Amanda Diorio
Happy Monday and thank you to the soldiers who have protected this country! 
We're back with the final installment by Amanda Diorio.  Enjoy, enjoy, enjoy!
There is not enough time to do everything under the sun.
Entering the MFA program at UNC Greensboro I anticipated having loads of time to take heaps of courses both in and out of the department. At the start 3 years seems like a long time. In the end it went by so fast I remember wishing I could have taken more courses than I had time for. If you come in with all your prerequisites met many programs are only 60 credits total for an MFA intended to be completed in 3 years. That translates to 10 credits a semester, which usually ends up being 3 academic courses and a technique class (this of course depends on your department). When I was registering for fall semester of the third year and looking ahead to the final semester in the spring I was discouraged that I had not had a chance to take every course from every teacher I originally wanted to. I was comforted looking back on how much I was able to do while I was there but there was still a feeling that I could have done more. I came to the realization that even though the time seems to drag when you are working on the 20 page research paper with little sleep in the long run it goes by quickly (if you thought high school and college went fast just wait). Think about this when you start your program. Try to decide what it is you want to your studies to focus on early. This will help you to create space in your academic plan and allow you to touch on the subjects that interest you the most.
Go at your own pace.
I have a bad habit of comparing myself to others. I tell myself I am not doing enough because so and so did so much more in my same position. This is not a good attitude to have in general but certainly not while trying to obtain a terminal degree. Know your own limits in regards to stress, work load and sleep deprivation and respect them. Like every individual candidates deal with the stress and time management in their own way. I was marveled at some of my friends who took on so many projects while pursuing their MFAs both in and out of the department. Some of my colleagues were fostering companies and other artistic ventures outside of school. Some of them had families going into the department while others planned weddings and were pregnant while working on their degrees. I could barely handle taking care of my two cats and myself while balancing the heavy workload. Working outside of the degree also varied, several people found outside employment while a number survived on student loans. Deciding to participate and perform in other student and faculty works is also a decision that affects how much time you have left for yourself and your course load. I found it comforting to live less than a mile away from campus to get that extra bit of sleep, quite a few of my friends found it more stressful to be so close and decided on a small (or not so small) commutes. Your family, tolerance for stress and strategies for time management all play a part in your decisions and individuals have their own set of circumstances that determine how they handle things. Do not compare yourself to others and decide that you are doing too much or not enough. Find what makes you comfortable and be proud of your accomplishments regardless. This is your degree and you should be able to obtain it in a way that makes you proud but also maintains your sanity.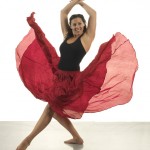 Amanda Diorio is an adjunct faculty member at UNC-Greensboro and Elon University.  She teaches adult classes open to the public at the North Carolina Dance Project where she is also a member of the board of directors.  Amanda holds an M.F.A. in Choreography from the University of North Carolina at Greensboro and a B.F.A. in Dance from Temple University. She has taught, produced, and choreographed dance extensively in Pennsylvania, New Jersey, Delaware, Virginia, Florida and North Carolina at universities, studios, public and private schools and community centers. Specializing in Contemporary, Jazz and Hip Hop techniques she enjoys spreading peace, love and understanding through her teaching of dance, choreography and culture.
MFA Mondays