Eat Well Wednesday: German Chocolate Bites
1.  Bite sized treats are perfect portion control.  You pull out one or two bite sized treats for a perfect snack or dessert.  So much better than always reaching for the big slice of cake.
2.  They are no bake and simple to make.  Bite size recipes are the perfect, quick alternative to baking.  You don't even have to turn on the oven, which is a big bonus here in the Texas summer!
3.  They have simple ingredients. Not only do bite sized treats and snacks require very little prep time, they also have pure, simple ingredients.  Your body loves simple, REALL FOOD.
German Chocolate Bites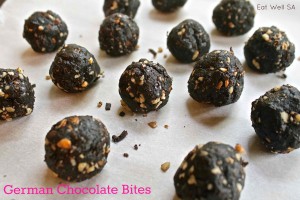 Here is what you need:
3/4 cup pitted dates (I like Sunmaid, because they are softer.) (120g)
1/2 tsp pure vanilla extract
1/16 tsp salt
2 tbsp cocoa powder (or raw cacao powder)
2 tbsp shredded coconut
1/3 to 1/2 cup raw pecans
optional: feel free to add some chocolate chips
Here is what you do:
Combine all the ingredients in a food processor.
Place the mixture in a ziploc bag and squish the dough together.  This will make it easier to form the dough into bite sized balls.
Form the dough into balls and place in an airtight container and store in the fridge.
Each German Chocolate Bite has approx. 50 calories.
Makes 12 bite sized balls
And that's that!  Also readers and don't forget to check out my new meal service, now offering (2) person, Individual person meals, as well as our awesome Family meals that feed 4-5.  All meals include and entree, side or salad, and dessert. 

Eat Well. Live Well. Be Well.
——————————————————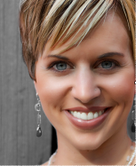 Jill Wentworth is leading us Wednesday by Wednesday into making better food choices and being more healthful. Tune in every Wednesday to get some great recipes and advice from someone who really knows health. In an effort to fuel her passion to serve as well has enhance the lives of others through their nutritional choices, she started Eat Well SA(San Antonio). Her vision is to educate you on how to incorporate a healthy array of foods into your life. Eat Well is not a diet, nor does it embrace any one specific dietary agenda. She also offers customized programs that are educational and teach you the tools you need to maintain healthy, well balanced eating for your busy lives.
Eat Well Wednesday
Uncategorized