Tuesday Tunes: Dance Teachers and Their Tunes
Happy Tuesday, Framers! For today's Tuesday Tunes, we are joined by our very own Lydia Hance!   
Tuesday Tunes: Lydia Hance
R: How do you envision the future of dance?
L:  I envision the future of dance as being a larger part of everyday life—people "getting it" more.  I see people looking at me with understanding instead of confusion when I tell them I am a dance artist.  I see the definitions between genres of art continuing to blur and morph.  I see dance in every classroom in America, because people will finally understand it's the perfect synthesis of mind, body, and emotion.  And as artists, we have to remember that we're on the forefront as innovators.  We have to approach the world as art ambassadors.  It takes time.  We have to be confident, humble, and clear.  The way things are, we have to make our work, find out how to fund our work and defend our work.  It's hard, it's exhausting, but it's the way it is right now.  We have to be consistent art warriors to get the future. (photo by Ashley Horn)
R: What has been the biggest dance challenge to overcome, in teaching or performing?
L: My biggest challenge has been my fear of making mistakes.  I take the privilege of teaching seriously and that fear was quite paralyzing when I started teaching.  But the more I observed great teachers, and the more I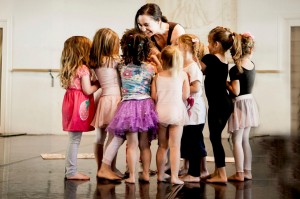 learned from teachers who were playful and humble, the more confident I became that it is totally legit (and preferable) to know that you don't know everything and the classroom is a place for teachers to learn as well.
R: What inspired you to form Frame Dance Productions?
L: Frame Dance Productions was formed out of my desire to connect dance with technology and create collaborative works.  I wanted to see culturally relevant, exciting dance that continued to innovate and shed the confines of what everyone expected of a dance company. I wanted to create a context that could evolve and adapt but could remain clear and organized.  The moment you stop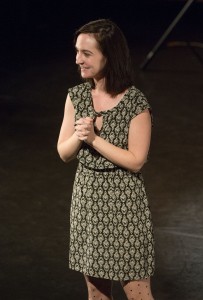 changing is the moment you go backwards.  Just because it's supposed to work, doesn't mean it will—and we can create art that changes society from within, it shouldn't exist outside of the system we're in.
R: What music do you prefer to use when teaching a class?
L: When I teach I try to make sure there's a variety of music— from Bach to Bob Dylan, and new American music to traditional Chinese music.  I try to make sure not all of my music is in 3's or 4's, but that students (and children, especially) learn to hear music in 7's and 9's.  It is about variety.  Children love Rusted Root's "Send me on my Way" and REM's "Shiny Happy People."  Then I'll play some yogic chanting and then some chamber choral ensemble's work.  I'll use music that spans from new electronic music to Corelli.  The music you choose impacts your students immensely.  Their ears are young, they haven't heard all that much.  And, unfortunately, it may be a lot of kiddie music (gag.)  I used to look forward to ballet class because of how I felt when I danced to a certain piece of music.  I was better friends with the pianist than my classmates.  Don't be lazy with your music.  Be curious.  (Photo by David DeHoyos)
*Interview by Frame Dance's social media intern, Rachel Kaminiski.
---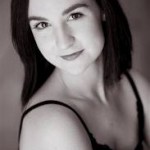 Lydia Hance is the Artistic and Executive Director of Frame Dance Productions (framedance.org), founded in 2010.  In the past four years, her work has been performed at the Contemporary Art Museum, Miller Outdoor Theater, Jones Plaza, the Pennzoil Place building, the Photobooth on Montrose, the Port Boliver ferry, Big Range Dance Festival, clawfoot bathtubs, art galleries, and on screens in film festivals all over Houston, Virginia, and Berlin. Before that, her works were performed in San Francisco, Time Square and Malaysia.
In 2012, Hance was named Dance/USA Emerging Leader through acceptance into the Dance/USA Institute of Leadership Training.  She has been named a top 100 Creative by the Houston Press and Arts + Culture Magazine dubbed her Houston's "queen of curious locations."
From 2012-14 she was the Education Director of Hope Stone, Inc., and she is a curator of Third Coast Film Festival.  She graduated magna cum laude from Southern Methodist University with degrees in Dance Performance and English Literature.  She trained at the Taylor School, Graham School, Tisch School of the Arts, Limon Institute and SMU.
Tuesday Tunes