MFA Monday
Interview with Lauren Small
by Hannah Jackson
HJ: What do you think will be the most challenging aspect of the MFA program for you?
LAS: Remaining engaged will probably be the most challenging aspect of the MFA program for me. I tend to have a short attention span when it comes to long-term projects or being in one environment or city for too long. Three years is a long time. Being present for the entire journey could be a difficult task for me.
HJ: What do you feel that you have to offer the dance world that no one else has?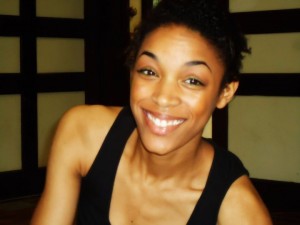 LAS: I am very attuned to minor details. Although it may not always show in the process of rehearsing and performing the works of other people it is apparent in my own choreography. Details such as slightly disparate angles of the head or placement of the hands or contractions of the body between various dancers involved in my work cause me to pause a rehearsal to make adjustments. I find meaning in details like gesture and body language and breathing that others may not interpret or include in their choreographic process. This observation and criticism of detail has allowed me to improve my teaching skills, make interesting decisions with choreography, and to pick up differences in movement techniques and styles at a solid pace. I cannot say that this is something that only I can offer to the dance world, however it is unique and leads me to study choreographer's who express this same attention to detail.
HJ: Is there something in particular that you feel burdened to create work about, or do you cull from various subjects (and if so, what piques your interest)?
LAS: Oh, I have so many ideas waiting to come out! Generally I do sample here and there from a variety of subjects that have included: playing hooky from school, friendship, isolation and loss of hope from imprisonment, struggle, dances to lyrical songs, violation of human rights, the working class, and more. I would love to create work with movement generated from martial arts movement vocabulary and may get a chance to do that soon. I am also inspired by supernatural themes of plagues, miracles, and signs and wonders in the Old Testament of the Bible. There is just a ton of untapped imagery in there waiting to be expressed! Ritualistic gesture, shape-driven movement, and clear intentionality are all big themes of mine, but I would love to take this time to step outside my regular box and explore some new interests.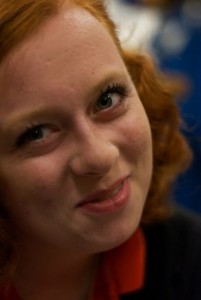 HJ: What are your long-range plans/goals post-MFA? What is your definition of a successful career/life? 
LAS: Would it be wrong for me to say right now "long-range" for me means the next three years? Haha. I really can't see past that space of time at the moment. I thought I had that all planned out ages ago, but who knows. I would love to continue teaching in some capacity. I teach about 10 hours a week now and really enjoy that. I'd like to perform regularly and get into another choreographer's process before really pushing my own work in that way. Maybe this means joining a company, maybe not. As for success, I recently read an excellent book by Dan Miller called 48 Days to the Work You Love. In the book I was asked, on Day 5, what success means for me. My answer several months ago, "Success this year means for me progressively pursuing and achieving my goals." Today a successful career and life for me would mean consistently reaching my fingertips as far as possible to grasp the full potential innately waiting around inside me to improve my abilities, learn as much as I can, and to stand out in what I do. Success for me is simply moving forward and taking time to reflect on that motion along the way.
Many thanks to Lauren Ashlee Small and Hannah Jackson for these interviews.  What a treat it has been to hear from Lauren these past few weeks.  Missed it?  Check it out here.
MFA Mondays