MFA Monday!
       Happy Monday, Framers!
For those of your who might not know…The "MFA Monday" series features the musings of local Master of Fine Arts holders. Enjoy their thoughts on the process of attaining an MFA!
Nothing Ventured, Nothing Gained
In my two previous blogs I talked about things that I missed in my graduate school experience, due to either the limitations of my program or of my own imagination. In writing about these experiences, it is my hope that others will have the opportunity to take advantage of these powerful resources that are within reach but may be easy to miss. However, I certainly don't intend to diminish my graduate school experience; indeed, they were some of best years of my life, both personally and creatively. To that end, here are some of the top things I gained from graduate school:
Not everyone likes my work and that is OK. For an artist, rejection is the pits. It is a massive blow to the ego the first time someone says something negative about one's work. "How can they not like something that I poured my heart and soul into? I shall now crawl into a small hole and weep!" In graduate school, along with plenty of positive feedback from faculty and peers, I got a lot of honest constructive feedback about things that weren't working. No one wants to hear that their work isn't beloved by people they respect, but it helps you grow. I made a lot of good work in graduate school and I also made some real crap. Thanks in part to the criticism I received, I can now better distinguish between the two. Learning to take and give constructive feedback is essential to a choreographer. You do not have to take all suggestions that are given to you, but you should always listen. It is hard to be objective about your own work; it is your baby and your baby is beautiful, right? Be open to an outsider who may see something you are missing.
Don't apologize for your work. Your work should express who you are. Will you be that same person in 5 years? Probably not, but that is not the point. Don't change your work to suit someone else's opinions. Everyone is my graduate program was very diverse and our aesthetics were wildly different. We had choreographers who believed in pure technical movement, work with a strong socio- political outlook, work that was fun and light, and everything in-between. It was easy to compare my work to my fellow classmates' and feel like I didn't stack up. My work has always run more towards the abstract side of things, and at times, I felt like my work lacked substance compared to that of my classmates. It needed to say more and be more. I needed to be an ARTIST!, not an artist. Eventually, I learned to embrace my own personal style and creative process. I learned to express my own voice and appreciate my own artistic sensibilities.
Surround yourself with a good support system. I would not have made it through graduate school without my fellow classmates. Graduate school is completely overwhelming at times. It can feel like a giant hamster wheel of rehearsals, papers, costume purchases, and job responsibilities. I was very lucky to find some terrific friends that became family to me. Lean on each other and you will make it to graduation day together.
If you love what you do, don't give up! When I see acquaintances or classmates, they always ask if I am still dancing. Everyone seems pleasantly surprised that I am still "keeping the dream alive." Here's the bottom line: I have hated every non-dance job I have held. I hate sitting behind a desk; it makes me physically itchy. My body wants to move! I have never wanted to do anything else, so I keep plugging away. It has been a lean and hard life at times, but I never seriously consider giving it up. Being an artist requires resourcefulness, perseverance, and a willingness to sacrifice. You probably won't be able to afford expensive gadgets, vacations, or a new car. You may have to take side jobs and hustle every skill you have into something that makes you employable. It is not the right life choice for everyone, but it has always been the right one for me. In graduate school, it is easier to maintain your focus, but in the real world the lack of money becomes a little more real. Remember why you love dancing and what you worked for in graduate school. Use that support system of fellow grad students. You will all be in a similar boat and can throw each other a life preserver when one of you falls overboard.
Go to school because you love dance and want to learn more. Graduate school is expensive and time consuming. Graduate school doesn't guarantee you a job. Graduate school is extremely stressful and frustrating as hell at times. If you are lucky enough to get a TA (teaching assistant or any job on campus), your salary will be low and your work load will be significant. However, I have never regretted my choice to attend graduate school. I went to graduate school because I love choreographing and I was able to fully immerse myself in the art of creating dance for three wonderful and challenging years. If you choose to pursue an MFA, do it for the experience and you will be rewarded.
Don't be afraid to start over. You can start a dance with a great idea, but sometimes it just doesn't take shape. You can craft it and change phrases around, but it just doesn't feel right. In graduate school, you learn to roll with the punches and start pieces a million times until they finally take shape. As an adult, change can be terrifying and pretty sucky, but it is sometimes necessary. This past fall, I moved to Texas to take my current job at Rice University. I loved my life in North Carolina, but professionally, I was stagnant. I knew it had to change. I decided to approach this move like the new section of a long work. I use those skills to start building a new work and a new beginning. I am excited to see how the next phrase develops.
———————————-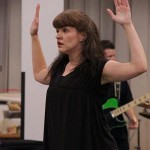 Heather Nabors is the Assistant Director of Dance Programs at Rice University. Heather relocated to Houston this summer from North Carolina. Heather has been a teacher and freelance choreographer in NC since 2005. She served as an adjunct faculty member at Catawba College, Greensboro College, Elon University, and UNCG. In 2012, Heather founded ArtsMash, a collaborative arts concert in NC. Her work has been presented at ArtsMash, The Saturday Series, UNCG Dance Department Alumni Concert, Greensboro Fringe Festival and the American Dance Festival's Acts to Follow. She has choreographed over 14 musicals in NC for community theaters and local high schools including Rent, Oklahoma! ,The King & I, Legally Blonde, Little Shop of Horrors, and Children of Eden. Heather received her MFA in Choreography from The University of North Carolina at Greensboro.
MFA Mondays