Links We Like
This Friday our Guest Curator of Links We Like is Jo Yost Ulrich, the woman who introduced me to Yamuna® Body Rolling, which I have written about on this blog.  After years of pain and discomfort from battling scoliosis as a dancer, it is the only practice that has made me pain free.  She is a wealth of information, and can teach us so much.
I have taken my love for movement and dance to a new realm for myself and have become obsessed and intrigued by the fabric of our body and how we can manipulate it and coax it and train it to serve us to the best of its ability.  You can find me at (shameless self-promotion).
Now it's pretty obvious that I am going to put up Yamuna's website as it is an invaluable tool for dancers and everyday people that dance through life. On it you will find resources for teachers in your area.  If you're in Houston, there are four of us in the city now!
Now I have to say that there really is nothing like Yamuna® and its symptomatic approach and I encourage you to find a way to learn about its awesomeness, but…
if you can't find a practitioner in your area there is also a great "down and dirty" video blog  that makes no nonsense out of making yourself more mobile. Granted, he is speaking to the less flexible mortals in the world, but in reality we are all mortal. He encourages everyone to become a "supple leopard" and truly feels that it is our individual responsibility to educate ourselves and take care of our bodies. You've got to love that.
Anatomy Trains is a way to look at that fabric and see how we are truly connected from head to toe in patterns that make sense of, for example, why someone's knee pain might have everything to do with the way they stand in their feet. I love this stuff!
In fact, I love this study of the body so much that I am attending a course in Maine this summer that will prepare me to hopefully teach this work someday (when I grow up). The link below is to a blog of Karin who went to the same course last summer and has begun to test her wings in sharing this knowledge. I have seen her present and she is ready to fly!
I have to admit that the main reason I find really amazing things online is that my husband finds amazing things online and shares them with me and then lets me take all the credit.
Two of my favorites from Steve are from TED Talks. The first one gave me goose bumps. It is called "Minding your Mitochondria". This doctor has used diet and nutrition to outsmart Multiple Sclerosis. The second TED Talk is something that will speak to the amazing dancers and their amazing brains out there I think: "Dance vs. Powerpoint". Now I have to admit there is nothing on TED that hasn't amazed me and made me think. I propose we throw out or televisions and watch one of these per night; I'm not sure we'd ever get through them all but it's worth a try and we'll all be better for it.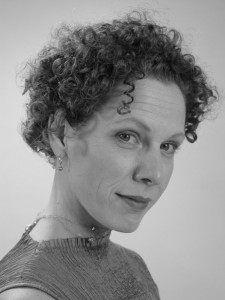 Joyce Yost Ulrich, former dancer with the Houston Ballet,  PMA® Certified Pilates Teacher and Yamuna® Body Rolling Practitioner, introduced YBR® to Houston in 2001, sharing this unique modality with dancers, athletes and computer warriors alike.  She teaches Pilates and Yamuna® to the students and company members of Houston Ballet as well as  to the public at her own studio, Pilates Treehouse.  She shares the Yamuna® work in workshops at NIAMoves, Pure Body Studio, The Hope Center,and CenterAlign.
Yamuna® Body Rolling is an amazing tool for injury prevention. It creates space in and between the joints for greater range of motion and ease of movement. YBR® uses a small ball between 6 and 10 inches and your bodyweight, stimulating bone, lengthening fascia, and regaining the body's natural and most effective posture which is lost through gravity's effects on our habitual postures and movements.
Links We Like