Frame Dance Profile: Jacquelyne Jay Boe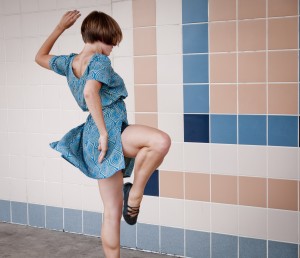 Q: What brought you to dance?
My mother. She enrolled me in dance as soon as I was old enough.
Q: What is your guilty pleasure?
Ben & Jerry's half baked fro yo, Sinful Bakery Cranberry Orange cookies, Mandel Ginger Snaps, Investigation Discovery, & Facebook.
Q: What is your favorite meal?
Fig & Pig Pizza at Cafe Brazil
Q: What is your favorite quote?
"Don't cut something you can untie"-Gayla Miller
Q: What is your hometown?
Omaha, NE but I am a Houstonian.
Q: What is something most people don't know about you?
When I was young I got too close to a rattle snakes nest. As the story goes I am still here and the snake lost its head.
Q: Tell us a joke.
Dumb Texas Laws:
In Mesquite it is illegal for children to have unusual haircuts.
In San Antonio it is illegal for both sexes to flirt or respond to flirtation using eyes or hands.
It is also illegal to urinate on the Alamo.
 In Lubbock county it is illegal to drive within an arms length of alcohol including alcohol in someone else's blood stream.
Ok so not a joke but funny right?
Q:  How have you been involved with Frame?
I started with the Hopewerks residency program project . Then I shared my secrets in LOVE ME. I now Frame myself at the Photobooth on Montrose and next I will be in Context. Hard to believe that this is only the beginning of my second year with Frame Dance.
Q: Do you have a memorable Frame Dance moment?
Entering the stage in the dark. Lights up.  Music and the video start in the middle of the piece.
The energy on the stage was so very much alive and present.
We worked through it together. Making choices and making those choices work.
My grandparents had no idea that anything wrong had happened. Which I guess is true.

Interviews