Tunes Tuesday: Dance Teachers and Their Tunes
Hey, Framers! We've recently decided to add a new layer to our Tuesday column. This fun edition to Tuesday Tunes involves interviewing dance teachers, asking a few questions and what music they enjoy playing during their classes. To start us off with a spark, we're joined by choreographer, dancer, and teacher, Leslie Scates.
Tuesday Tunes: Leslie Scates
R: Why do you find it important to share your passion and knowledge of dance with others?
L: I find it important to share the work I do in dance with others because it is the primary way that the language and history of dance is transmitted across people and generations.  I also really really really enjoy moving with other people…communicating non verbally and sharing real time experiences together.
R: How do you imagine the future of the dance world?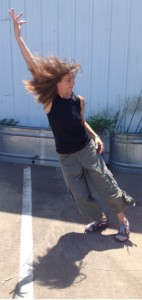 L: I imagine the future of the dance world to be even more integrated with regard to sharing technique and creativity by way of digital media.  I imagine that students will be learning from instructors through screens, allowing for information sharing from distant locations in immediate moments.  I imagine that dance will play even more of a role in neuroscience research and public health.  I think that the role of movement, dancing movement and creative practices in particular will be integral in helping people with chronic illnesses and rehabilitation from debilitating physical events.  I think the neurological benefits of dancing will become more defined, mainstream information and will have applications in many spheres of public wellness and productivity. I also think dance will continue to have traditional techniques passed on and will continue to evolve alongside visual art and performance art and theatre as a separate medium.
R: I know that you travel often- How has your exposure to many cultures influenced you as a dance maker?
L: Being exposed to many cultures has influenced me as a dance maker in the following ways:

* It allows me to experience and observe people in their movement and communication patterns and customs.  I get to see alternate ways of organizing social and personal space and time.  

* It gives me opportunities to study dance and dance making with people who have trained and worked in different ways than I have.  This is essential.  Being a student all my life is what makes me stay creative.  I want to learn new ways of approaching the same work.  I want to be challenged to do things I haven't done yet.  

*  I get to be anonymous.  When I travel to study and work in dance, no one, or not many people know who I am, what else I do, and what my work is like at home.  This gives me ample space to start at zero and work without baggage.  I get feedback on my work that is not attached to my history at home.  

*  I am fully dedicated to that work at that time.  Intensives are called intensive for a reason.  It is concentrated, condensed time in practice.  To be able to focus on being creative and making work fully for days is a brain changer.  I come home with a brain full of new patterns.  And then I get to share them with other people.  Language passing on…
R: In a typical class, what does your music playlist look like?
L: NO MUSIC!!! 
Silence is the best sound for training in dance making and improvisational dance.  It is because silence allows us to move from our brain and body, not move to one piece of music, or to simply "interpret music through dance".  We must look beyond that for inspiration!!!   It is challenging for beginners to dance in silence, but is essential training for post post modern dance.  We must be able to create from within, not only from music and sound and external rhythm.  If we are creating spontaneous ensemble choreography, silence is useful so that we can focus on composition and listen deeply to the emerging dance, and have time and space to respond to the group's timing and ideas, and our own instincts. 
L: BUT I DO LOVE MUSIC AND WORK WITH IT.
My music playlist is wide.  The following are specific musicians or artists that are my go to for Improvisational Dance Classes. 
Bulgarian State Radio Female Choir
Any recorded text on any topic at all
Music in languages other than English
And I like to sometimes vary current pop music because I like to dance and sing at the same time.  I only use this kind of music in performance if I want to have a certain effect on an audience by introducing a common and known sound / cultural cliche into the performance.  
---
Leslie Scates was recently named a Top 100 creative by Houston Press.
Tuesday Tunes