Tuesday Tunes: Priscilla Rivas
Tuesday Tunes: Priscilla Rivas
 R: How do you see the future of dance?
P: I think that dance will continue to change, shrink, and grow as it has done in the past.  I feel that Dance reflects, many times, how our economy is doing.  The better people are doing financially, the more chances we see children being put into dance classes and movement classes.  So on a home level, I think we will see an influx of kids taking formal dance classes.  Sadly, we will see the opposite in public schools.  Each year, more and more emphasis is placed on high stakes testing and less on developing the "whole child."  Schools find themselves cornered and having to make cuts and losing artist teachers in the schools because the budget cannot support them. I think families will have to make the extra effort to seek opportunities to expose their children to the arts. As for dance itself, the smaller our world becomes through technology, the more we will see other cultures and styles influencing all types of dance.  I think that is really exciting!  It is so interesting to watch contemporary pieces and recognize elements of hip hop, folklore, and even language incorporation.   
 R: I know you have studied a range of dance from ballet to hip-hop and even teach folkloric dance. What are the different choices you make for each style  when choosing music for dance? 
P: As a folkloric dancer for over 15 years, I love the rawness and soul the movements have.  It tells a story of the land it comes from and it becomes a comprehensive history lesson.  History shaped the movements and it evolves overtime and becomes "stylized" for the stage.  I also find it interesting to incorporate contemporary features to make it accessible to all audiences.  The music that accompanies it can be authentic folkloric music or a modern version of it.  I love to use both to drive the choreography because it inspires variations of the raw movement.
R: What music is on your playlist when teaching a class?
P: On my iPod you will find the craziest combination and styles of music.  I have everything from Latin and belly dancing to pop and classical!  I can't teach a class and put my iPod on shuffle because it will certainly cause a lot of laughs.
---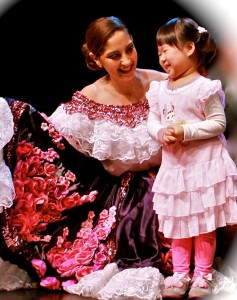 Priscilla Rivas –  spent part of her childhood in Cali, Colombia, where she was inspired by the music and dance of her vibrant culture. Priscilla has studied ballet, jazz, hip hop, world dance and belly dancing. She has created and performs a unique fusion of Arabic and Latin dance styles. She is the Artistic Director and choreographer of the Colombian Folkloric Ballet and a soloist/company member of Gypsy Dance Theatre. She has taught creative movement to 6-8 year olds at Hope Stone and teaches after school dance classes in Houston ISD.   She has also spent the last 6 summers at Bates Dance Festival teaching Visual Arts and World Dance for the Youth Arts Program.  Aside from being a lover and educator of the arts, Priscilla has pursued a career in education. She holds a BS degree in early childhood education from the University of Houston and is currently getting her Masters in Education for "Educational Leadership" at the University of St. Thomas.  She and has taught kindergarten, second grade and fourth grade and is now the Teacher Specialist at an inner city Houston elementary school. 
Tuesday Tunes