The Journey and the arrival
I can't count on one hand the number of times I've traveled from Houston to Lexington, Virginia.  I can probably count on two.  And I have to say that this was the smoothest trip I've had.   Thank you, Delta.  I have only two complaints:
On the first leg—from IAH (Bush Int'l in Houston) to ATL– I sat next to a man with a major flatulent problem.  I tried to give him the benefit of the doubt…it was a crowded plane, air pressure changes while in flight, I have an unusually canny sense of smell.  But then again, it's majorly offensive behavior in such contained close quarters.  It wafts, it ebbs and flows and I find my facial muscles all tied up and scrunched at the nostrils.  Here I am reading Rumi's poems on the theme of work "One-Handed Basket Weaving" and I'm distracted by this? I feel slightly guilty for reacting so juvenilely and look over with friendly eyes only to find him ASLEEP.  Please, sir, if you're going to be releasing such odious odors, don't pretend to be sleeping in attempt to deflect accusations.  FESS UP.
The plane from Atlanta to Roanoke was small, far too small for my taste.  But we'll get into my fear of flying some other time.  It took me a moment to find my seat because the labels weren't lined up with the seats.  (Why, people?)  Anyway, I find my seat number and walk up to climb across my row-mate.  As I finagle my belongings over his head and step over his knees—in a dress, mind you.  I see the man sitting behind my seat.  A real outdoorsy type.  Camo pants, big work boots, a moderately soiled t-shirt and a hat.  No, I didn't forget about how obnoxious my row-mate was to not stand up to let me in, but that isn't my second complaint of the trip.  It is this:  about halfway through the trip, I start to smell something else.  Yes, that's right, slightly sweet…hot…sweaty…dirty…incubated… and I crane my head to the left looking through the seats.  There it was.  His boot.  And there it was.  His foot.  Enough said.  This was a pungent trip.
I arrive in Lexington and am immediately thankful for the warm weather.  Call me crazy, but I enjoy Houston summers.  So I was glad to see the weather at a perfect 80.  I thought I remembered how beautiful the Blue Ridge Mountains were.  I was wrong…they and the rest of the hills and trees and flowers are so much more beautiful than I even remembered.
Beauty surrounds us,
But usually we need to be walking
In a garden to know it.
After I arrived at the Dancers House (the most beautiful, calming, creative space I could imagine) I walk to Halestone to watch some of the dancers rehearse.  Walking to the studio, I was reminded of that Rumi stanza above.  The act of walking—it's like participating in the beauty.  There's a deepening of beauty when we can experience it as opposed to seeing or hearing about it at a distance.  Walking in Lexington is like that…recognizing and feeling the beauty of the area and the people and the town.  And then comes an active pulse or current of energy.  Not the energy I experience through walking in New York.  That energy is like a suger-high to me—a fast peak and then total exhaustion.  But here it's steady, as if it's been brewing for hundreds of years.  And it has.  Where history dwells, energy dwells.  While I was watching Nancy conduct rehearsal, I had the pleasure of hearing her talk about the concept of the show this weekend.  It's entitled "Older than the Mountains."  She talked about energy—potential energy and kinetic energy, and reveled in the notion that energy is neither created nor destroyed.  The energy that was active (or potentially inactive but existent) hundreds and thousands of years ago is still active (or inactive and existent) right here in our time and space.  And that energy is creativity.  I am not doing this concept justice…more to come when I've seen the show in its entirety.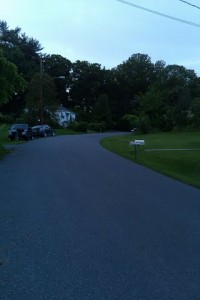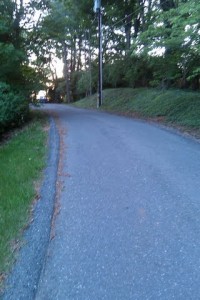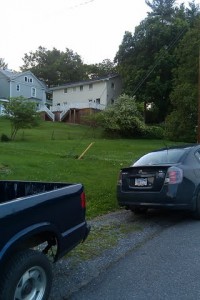 I feel very inspired by my surroundings. I cringe at how cliché that sounds.  But it honestly expresses the sentiment I am feeling.  I look out the window in the living room and see trees.  I look out the window in the bedroom and see trees.  I look out the window above the kitchen sink and see trees.  I look out the window in the kitchen, over the lovely deck and see mountains.  I've desperately craved natural beauty.  Maybe that's why I need to create beauty, or at least something honestly interesting.  I am a believer in changing one's surrounding to make new art.  I'll breathe this in, dream this in, walk this in, and create something new.  Ready.  Set.  Go.
Uncategorized