Surprising things I discovered when entering Grad School
I would make friends.
I thought when I went back to school to get my MFA that I would be entering an uptight academic environment.  I was so preoccupied with the idea of school and relocating my life that I forgot I would be entering a community of like-minded peers. In undergrad, even among dance majors, I was considered the "dance nerd."   In grad school I was surrounded by not only dancers but specifically  "dance nerds," people who wanted to explore, dissect and reveal as much about the art as I did.  This community turned out to be a vital support group throughout the process of completing my degree.  Having others to bitch to, socialize, laugh, and share my fledgling art with became essential for my survival during this stressful time.  These bonds were not only a lifeline during the process but created many long lasting friendships and an excellent network that stands strong long after graduation.
The teacher/student relationship has evolved.
When you enter a graduate program you have already passed a test in the eyes of the faculty.  You have already completed one major academic step and have decided to continue onto another. There are fewer grad students for them to keep track of and you yourself are probably a much better student.  For me this reduced a lot of the intimidation I felt with my undergraduate professors.  While I had (and still have) great respect for the faculty who guided me through my MFA program I sensed a more open relationship with them than I had past teachers.  I believe this allowed me to ask for help in my learning process more readily and, in turn, gave me the most out of the program.
It's not only about making the art.
I thought that majoring in choreography would be all shop.  I would create pieces and receive feedback to make them better. Having received my BFA only 5 years prior I don't know why I didn't realize that the program would be so well rounded.  I teach non dance majors now as an adjunct professor and explain to many undergraduate students why this dance class they are taking for a fine arts credit helps them become more well rounded. On arriving for my MFA orientation I was reminded that we would be looking at choreography from more than the perspective of the choreographer creating the work.  We looked at it from an audience members point a view, where the work stands in our culture, and what the choreographer's life entails.  Somatics classes informed me about my body and technique classes gave it new and inspired ways to move. It wasn't just about spacing, timing and costumes. While few credit hours are spent outside the department (9 out of 60 in our department) you do have the opportunity to explore other fields. I took Global Arts, Multicultural Education and Exercise for Older adults, all of which significantly help me in my jobs today.  I arrived thinking I would only create choreography leave ready to start a company.  I came out with a more open mind about where dance stands in our world.  While creating work on occasion my current bread and butter lies in getting others, college students both in and out of the arts, children at local dance studios, and adults from beginner to professional to expand their knowledge of dance.  Much like the MFA program did for me.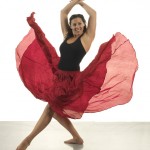 Amanda Diorio is an adjunct faculty member at UNC-Greensboro and Elon University.  She teaches adult classes open to the public at the North Carolina Dance Project where she is also a member of the board of directors.  Amanda holds an M.F.A. in Choreography from the University of North Carolina at Greensboro and a B.F.A. in Dance from Temple University. She has taught, produced, and choreographed dance extensively in Pennsylvania, New Jersey, Delaware, Virginia, Florida and North Carolina at universities, studios, public and private schools and community centers. Specializing in Contemporary, Jazz and Hip Hop techniques she enjoys spreading peace, love and understanding through her teaching of dance, choreography and culture.