Press Release: Show at Archway Gallery
Frame Dance Productions presents portions of Mortar, Sylphs Wrote @ Archway Gallery (www.archwaygallery.com), 2305 Dunlavy, 7:30 Saturday, May 21. Free, but donations accepted for the dancers.
You're invited to experience Frame Dance Productions as they dance surrounded by paintings of donna e perkins' Caliente: Full Frontal show currently at Archway Gallery . The structural lines for these paintings were drawn from Frame Dance Productions dancers.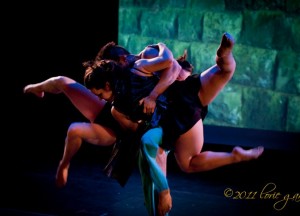 Frame Dance Productions Dancers: Jacquelyne Boe, Lauren Cohen, Kristen Frankiewicz, Ashley Horn, Alex Soares, Amber Whiddon
Frame Dance Productions is a dance and technology company directed by Lydia Hance. Her work focuses on collaboration with diverse artists as well as finding connections with technology. www.framedance.org | www.framedance.org/frame | @framedance.
About Lydia Hance
In 2010 Lydia Polhemus Hance founded Frame Dance Productions, a contemporary dance company, to connect Houston's vibrant art community to the Web 2.0 social networking infrastructure, an emerging, media-rich forum for new creative expression. Her work has been presented at Texas Weekend of Contemporary Dance, Contemporary Arts Museum Houston, Rice University Dance Film Festival, Houston Fringe Festival, in San Francisco, New York, Virginia and Malaysia. She is the recipient of a Puffin Foundation Grant as well as the Individual Artist Grant from the Houston Arts Alliance. She has a BFA in Dance Performance and BA in English Literature from Southern Methodist University.
Performances/Screenings