MFA Monday!
featuring Sarah Wildes Arnett! 
Enjoy!
Going into graduate school, I always thought of an MFA as the desired end result. In reality, the journey to the MFA became much more important than attaining the MFA itself. Here I am, one year post-grad, and what I wouldn't give to be living that journey again. I'm not saying that it's all roses and butterflies, but the four years I spent working on my MFA (yes, FOUR!) were the most rewarding and selfish years of my life. When I say selfish, I'm referring to a number of things – for one, my time was completely devoted to dance in all forms. I spent hours upon hours dancing, choreographing, writing, reading, teaching, thinking, talking, performing (etc.) to the point that I probably spent less than 8 hours a day at home (sleeping) and it didn't even phase me.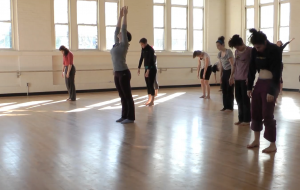 Having a significant other, or even a pet, can be tough during this type of selfish study. Because it can be so draining and taxing, having some support system outside of your colleagues is important, whether it be a person or a pet. But be warned – they will get sick of you being gone! In order to do grad school (and I mean really do it) it requires an extreme level of sacrifice on the people (or animals) you are living with (maybe a dog isn't the best grad school friend – go with a cat, they could care less about you anyway!). The key to successful support is communication and understanding.
Even now I struggle with communicating within my own support system, something I think many artists find. How do you explain an MFA in a meaningful way that is both accurate and understandable for people who aren't in the arts? Something most people do not understand is that the MFA in Dance is a terminal degree, which puts it at an equivalent to a PhD for many fields. For academic jobs in dance, the MFA is the preferred degree, though many do have a PhD, but they are in areas such as education. My friends and family understand my job to some extent, but I still get called a "dance instructor" when being introduced to other people and its something I just have to either get used to hearing or get used to explaining how I'm not that different from other "professors" out there, I just get to enjoy what I'm doing a little more.
The best way I've found to tackle this is by having conversations and by convincing my family and friends to come out and actually see what I do in the professional world. They are almost always surprised that I do not do what they thought I did. It is not always easy to do, but I've found that getting in touch with what people do know and enjoy has been one of the best ways to start conversation and gear it toward what the larger dance world is all about. Many of my friends watch television shows like So You Think You Can Dance and if I can start conversation there, they're much more open to trying to understand what I do and how it relates to the commercialized dance they enjoy watching from home.
A huge advantage of a full-time faculty position is the funding that is available for presenting work, given that the university and its budget supports it. I have been extremely lucky that various grants have been available to fund my travel to the different festivals I've participated in with my company, SWADanceCo. Because many university tenure and promotion documents have been revised to include creative work as scholarship, I have been able to continue choreographing and performing as a professional with the monetary support of my institution. Without this support, I would not be able to go out and get my work seen and share my art with the world. My colleagues have been brilliant supporters as well and I'm in a readily made environment conducive to active collaboration and interdisciplinary scholarship.
Support comes from many places and understanding how to build the net of support from all aspects of your life is extremely important. Without all walls supported, there are bound to be cracks in the foundation.
__________________________________________________________________________________________________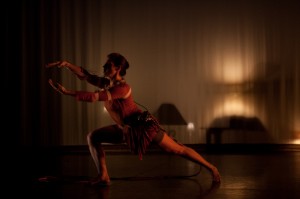 Sarah Wildes Arnett is Founder/Artistic Director of SWADanceCollective and Assistant Professor of  Dance at Valdosta State University in Georgia. She received a Master of Fine Arts in Dance Choreography at the University of North Carolina at Greensboro in 2012 and a Bachelor of Arts in  American Studies from Vanderbilt University in Nashville, Tennessee. Sarah's interests are interdisciplinary as she enjoys integrating her talents  in film-making, photography and music composition into her choreography while also expanding boundaries of genre and style. She continues to perform professionally with various companies and artists in the southeast. Most recently, she has performed and shown work at the MAD Festival (Atlanta), Alabama Dance Festival (Birmingham), NC Dance Alliance Annual Event (Greensboro) and RE:Vision by Forward Motion Theatre (NYC).  http://www.swadanceco.com/
MFA Mondays