MFA Monday

Hey Framers!
Today's MFA Monday is by Framer Laura Gutierrez!
Explore her thoughts, doubts, and dreams as a professional dancer considering obtaining a Master of Fine Arts degree. 
I am a performer. I am a choreographer. I am an educator of Dance.
Becoming a surgeon, dentist or lawyer is not something in my future. Although, I have definitely entertained the idea.
The point is that getting my master's in anything not related to dance is out of the question.
The only other reason I would consider getting a degree in something not related to dance is for financial stability. But, as of today, I have no clue where to start because for the next 15 years I definitely want to be teaching, creating new works and performing.
Just when is the right time to get an MFA?
I'm currently in a place where I'm re-learning and redefining my choreographic process and finding out what inspires me. As a teacher, I'm finding out what my strengths are and fine tuning my weaknesses. Last but not least, as a performer I'm finally finding choreographers that best suit my style. There are also numerous projects that I would like to complete and residencies I would like to apply for prior to going back to school. 
I feel what I'm learning now is extremely valuable and the experiences I've had are just as important to me as getting an MFA. I will end by saying I have the hardest time living in the moment. As I do understand "Life is a Journey, not a destination."
————————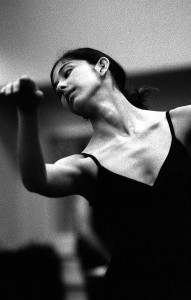 Laura Gutierrez is a graduate from the High School for the Performing and Visual Arts and received her BFA in contemporary dance from the University of North Carolina School of the Arts. A recipient of a 2009-2010 William R. Kenan, Jr. Performing Arts Fellowship at the Lincoln Center Institute, she presented her choreography The World Within in the Clark Theater. Since returning to Houston, she has been a part of Texas Weekend of Contemporary Dance, Big Range Dance Festival, Hope Stone, Inc's emerging artist residency HopeWerks. She was also a part of Tino Sehgals installation in the Silence exhibit at The Menil Collection and most recently performed in Study for Ocupant choreographed by Jonah Boaker at Fabric Workshop Museum in Philadelphia and Frame Dance Productions. Currently she is on Adjunct Faculty at HSPVA and is the Office Manager/HopeWerks Director at Hope Stone, Inc.
Stay tuned for Laura's concluding remarks next week!
MFA Mondays