MFA Monday
Another start to a great week and we have just what you need to kick those Monday woes: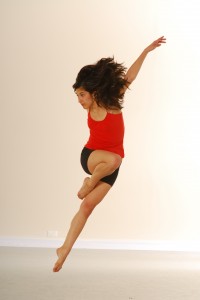 Laura Gutierrez!
Laura is a Frame dancer who will be leading us through our series of MFA Monday with her thoughts on attaining a Master of Fine Arts.
———————————————
Some questions to ponder.
When is the right time to apply for an MFA?
After graduating from a very rigorous conservatory dance program and moving to New York City in June 2009, I pictured myself landing a dream dance job and living happily ever after.
I was always very aware that choosing dance as a career (not a hobby) would bring challenges, and moving to Manhattan in the middle of the financial crisis to try to land that dream job forced me to face facts.
For the first time in eight years, I would not be taking class multiple times a day.  After attending numerous dance auditions and applying for day jobs at every retail store in the city, I finally chose to move back to Houston in the fall of 2010.  I have thought about applying for an MFA in Dance every fall since.
Most of the dancers I know who have returned to school have landed their dream job of joining a professional company or are going straight into an MFA program from undergrad.  I am somewhere in the middle.  I've done some research on a few schools and have talked to a few people who have graduated with an MFA in dance.  Here is what I've gathered thus far:
Research, research, research the many program possibilities.
Don't pay for it out of your own pocket or apply for loans. (I am, of course, still paying for undergrad.)
Be ready for the commitment.
Decide on your concentration. (Choreography, performance, teaching?)Decide on your concentration. (Choreography, performance, teaching?)
Even though I never pictured myself moving back home so soon—or ever—I have accomplished other goals: paying my rent, earning a salary with benefits, working with and for fantastic arts organizations/ dance companies.  I have created a life for myself in Houston and it seems juvenile to get up and move elsewhere.  Still, at the end of every week I leave work with the same thought: I'm still young, and I should be dancing.
I still desperately crave the long hours of conservatory training, researching and drowning in all things dance.  I'm eager to take the next big step in my career and I feel that graduate school is a good option. But I fear that it could also be a very expensive safety net.
Is going to grad school for dance even the best option?  Or is it time to transition into a different career at the age of 25?
——————————–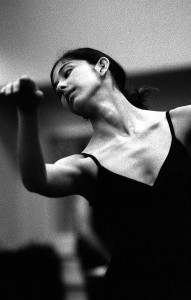 Laura Gutierrez is a graduate from the High School for the Performing and Visual Arts and received her BFA in contemporary dance from the University of North Carolina School of the Arts. A recipient of a 2009-2010 William R. Kenan, Jr. Performing Arts Fellowship at the Lincoln Center Institute, she presented her choreography The World Within in the Clark Theater. Since returning to Houston, she has been a part of Texas Weekend of Contemporary Dance, Big Range Dance Festival, Hope Stone, Inc's emerging artist residency HopeWerks. She was also a part of Tino Sehgals installation in the Silence exhibit at The Menil Collection and most recently performed in Study for Ocupant choreographed by Jonah Boaker at Fabric Workshop Museum in Philadelphia and Frame Dance Productions. Currently she is on Adjunct Faculty at HSPVA and is the Office Manager/HopeWerks Director at Hope Stone, Inc.
Stay tuned to hear more from Laura next week and feel free to comment on any of her questions below!
MFA Mondays