Frame Dance Spotlight on: Wanderland, a film by Ashley Horn
We are so pleased to let you know about the film of Ashley Horn, a Framer you've seen in our works Crease, Satin Stitch, Mortar, Sylphs Wrote, the series at The Photobooth on Montrose, CONTEXT, and our new upcoming work that has no title. (Did I forget anything?)  She is also Frame's costume designer.  We think she's fabulous.   Not only is she a Framer, but she is a choreographer and filmmaker herself.  She has a very exciting film premiere coming up.
Ashley Horn tells us about it here:
What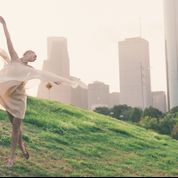 Motivations

The idea for this show came from a night of insomnia that I was trying to cure with random internet searches.  I stumbled onto an article about how parts of Lewis Carroll's Alice's Adventures in Wonderland were written as a protest to the mathematics theories his time.  I had learned that the book had many references to religion, but this was a whole new part of the puzzle.  I grew obsessed at the idea of a story within a story, a contemporary and timely element living within a timeless narrative.  I spent the next some weeks thinking about stories, especially folk stories and fairy tales, and their power, longevity, and elasticity.
Arc

For Wanderland, I decided to create an overall narrative and then fill it out with underlying elements of storytelling-  culture, fantasy, imagery, and symbolism.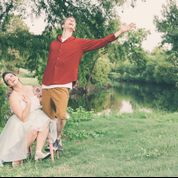 Costumes
I was so lucky to have the help of costume designer Angela Alongi with the costuming of Wanderland.  With a cast of 18 performers, most with multiple costumes, there ended up being around 43 costumes in total.  Luckily, we were able to just pull some off the rack but for some of the scenes there were massive alternations.  It was important to me to have the screen full of color and volume and we played with unusual pairings to create unique characters.
Music
When I got Poopy Lungstuffing's (Olivia Dvorak) album "Sorry I am Bad" last year, it dominated my radio for months.  It is music that truly inspires me and invokes images of movement and space.  Not only did this album fit perfectly with the film I wanted to create I am thrilled to be using the work of a local artist.
Who
The cast for Wanderland is a ridiculously talented and diverse group of performers: Daniel Adame, Shanon Adams, Rebekah Chappell, Bethany Dickey, Andrew Farris, Kristen Frankiewicz, Angela Fry, Laura Gutierrez, Paul Locklear, Richard Lyders, Raquel Kahn, Leo Munoz, Tad Nott, Neil Ellis Orts, Alex Soares, Prudence Sun, Emma Kate Tsai, and Sabra Yarbrough.   They each brought elements of their own craft (modern dance, theater, ballroom, etc.) to every rehearsal and helped create movement that is athletic and unique.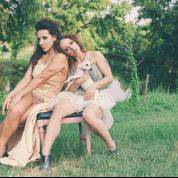 I've always been enamored with storytellers, especially writers and musicians.  I don't want to be limited by the idea of the narrative; in the future I plan to make whatever kind of work I am inspired to make, be it narrative, abstract, minimal, absurd, or whatever else a concept calls for.  But for this specific project, I wanted to explore as many facets of story-telling under the general arc of a story line.
When and Where
Wanderland will premiere October 12, 13, 15, 19, and 20 at 8 PM at 14 Pews, 800 Aurora. Tickets are $10 for students and professional performers and $12 for all others. Tickets for Monday, October 15 will be "pay-what-you-can." Concessions will be available for a cash donation. For more information or to purchase tickets, please visit www.wanderlanddance.com.
Wanderland is funded in part by an individual artist grant from the Houston Arts Alliance.
Uncategorized