Eat Well Wednesday: Peanut Brittle

Homemade gifts are the best!
  Not only are they budget friendly, but people love knowing that you took the time to make something for them….. And who wouldn't love to get a bag of this?!!  
  Whip up a batch today and share with friends and family. This heart healthy brittle (thanks to the almonds, cashews, and pumpkin seeds)!!    Sure there is sugar, but as long as you don't eat the whole batch you will be fine.   Everything in moderation. 😉  
What you need:
Large Pot Candy Thermometer Baking Sheet Wax Paper Cooking Spray   1 Cup Water 2 1/4 Cup Sugar 1/2 Cup Honey 1/4 Cup Brown Sugar 1/2 Teaspoon Salt   1 Cup Almonds 1 Cup Cashews 3/4 Cup Pumpkin Seeds 3/4 Cup Dried Cranberries 1 Tablespoon Butter  
What you do:
In a large pot, add water, sugar, honey, brown sugar, and salt.
Place on medium heat.
Stir every 5 minutes until the candy thermometer reads 300 degrees.
This is very important:  If your sugar mixture goes over 300 degrees it will burn. To avoid a HUGE mess in your kitchen and a not so fun smell in your house, watch it closely.  It took me about 30 minutes to bring it to the right temperature of 300 degrees.
In a bowl, mix together the nuts and cranberries.
Line baking sheet with wax paper and spray with non-stick cooking spray.
Once the sugar mixture reaches the proper temperature, remove from heat.

Immediately add the tablespoon of butter and nut mixture to the liquid sugar and coat well.

Pour onto your lined and greased baking sheet and spread out evenly using spoon or rubber spatula.
Place in fridge to harden and then break into pieces to serve.
Eat Well! Be Well!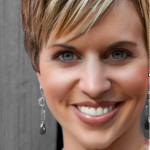 Jill Tarpey is leading us Wednesday by Wednesday into making better food choices and being more healthful.  Tune in every Wednesday to get some great recipes and advice from someone who really knows health.  In an effort to fuel her passion to serve as well has enhance the lives of others through their nutritional choices, she started Eat Well SA(San Antonio). Her vision is to educate you on how to incorporate a healthy array of foods into your life.  Eat Well is not a diet, nor does it embrace any one specific dietary agenda. She also offers customized programs that are educational and teach you the tools you need to maintain healthy, well balanced eating for your busy lives.
Eat Well Wednesday
Uncategorized