Company Update
Hello Framers,
How are you liking the new columns?  Every Monday you will find an "MFA Monday" column written by an MFA in Dance who shares with us his or her stories and advice as an MFA graduate or stores of the program.  I have to say I'm stoked about this, and I hope you are too! We have authors lined up through the rest of the year, and into 2013, but we are always interested in recommendations for future MFA Monday columnists.  These writers commit to a 3-ish post arc.  Here's where I ask, "If you have an MFA or know someone who does…."
And of course, we have our old favorite, "Links We Like Friday."  Yours truly will curate tomorrow.  We've had the priviledge of hearing from Frame Company Rep the past few weeks (they've been gooooood.)  I'm back this week.
Okay…so what's going on with the company?
So much!  We just wrapped (as far as I know since I haven't seen all of the footage) our latest dance film.  Working title = Quiver.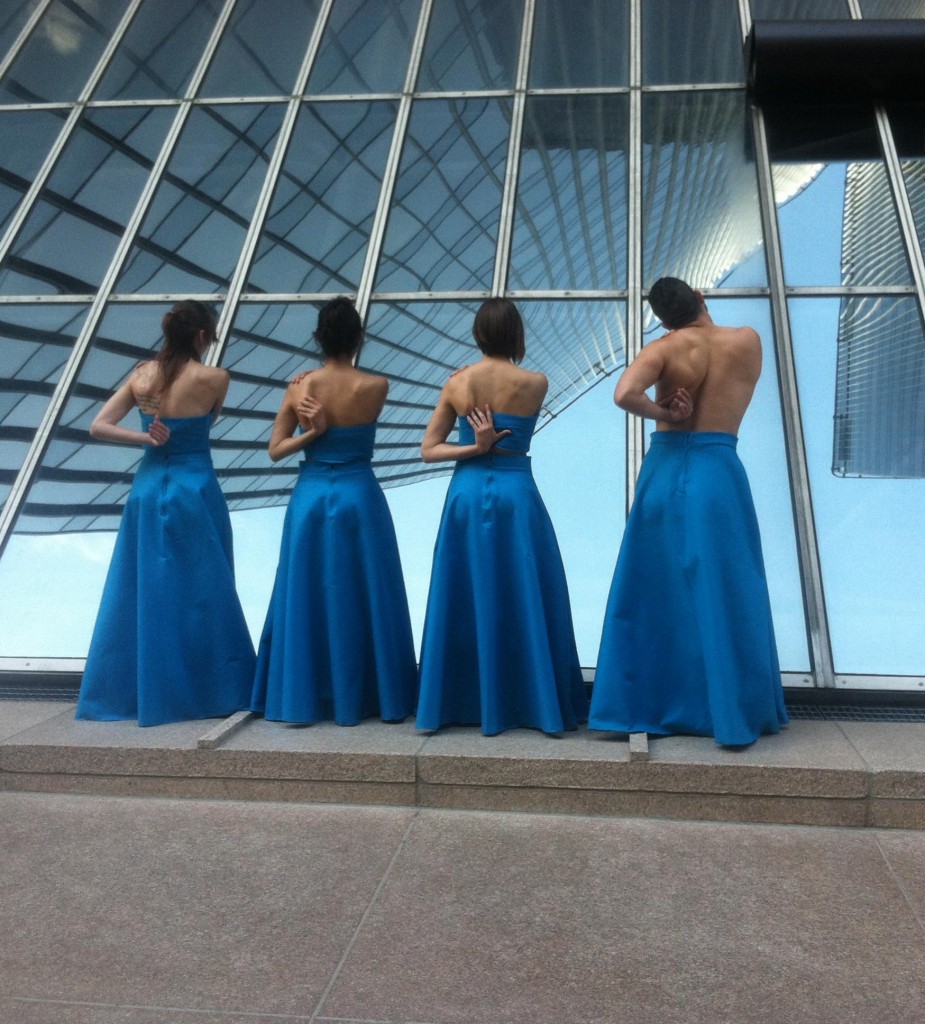 This is a picture from the shoot.  Ashley Horn made the costumes.  She strikes again, eh?  I'm in love with this color and the weight of the skirts.  Beautiful.   That film should release Winter 2013.
Also, we are making a brand new live piece for ERJCC Dance Month, part of the Choreographers x6 shows.  One of the most exciting parts of this is that Charles Halka (you've probably read his name three dozen times on this blog) is composing a brand new piece. We might be his biggest fans. I approached him while we were still in the makings of CONTEXT (he had won our Composer Competition and his music was featured in CONTEXT).
He said right away he wanted to create something for electric violin.
So, the dancers and I are working on the dance, he's working on the music and we'll come together in a couple of weeks to starts sewing the works together.  He's been watching rehearsals, and I'm making phrases: solos, duets, trios.  Honestly, we've only gotten to the solo and duet material.  But we still have a few months.
What do I think it's going to be like?  I think striking.  That's my word right now.  Clean lines, strong, off balance, bold and human. 
I've had a blast teaching a few master classes at Rice these past few weeks.  I'm also teaching on Saturday at Hope Stone from 11:30-1pm if you'd like to come dance framer style. 
Fun, movey, groovey.  Smiles.  Sweat on Saturday.
Okay, so stay tuned, and for heaven's sake, find us on Facebook.
-Lydia
Uncategorized