Company Update
Hello Framers!
I wanted to let you know some of the extremely exciting things going on with the company in the next couple of weeks.  The first one is coming up fast– next week!  We are dancing Under the Blue Trees.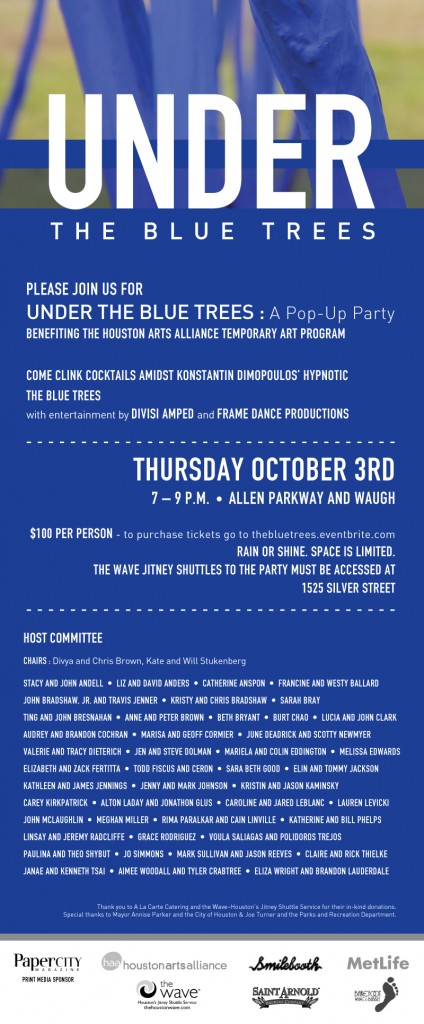 If you live in Houston, I'm sure you've seen or driven past the blue trees along Memorial Drive.  They are a temporary art installation by Konstantin Dimopoulos.  Next Thursday night, along with Divisi Amped, we will be performing in and around them.  I hear it will be magical.
Then, on October 23, we are performing in a fashion show.  Yes!  It is true.  A Fashion Fete. Fashion Fête is a performative event unlike any other in Houston: men's and women's fashions by national and international designers from Houston's most fashion-forward boutiques, paired with original wearable accessories created by some of Houston's most collectible artists.  I can't give away too many secrets, but we will be performing with The Manichean.
And thirdly, on December 11, we are performing in a show by Liminal Space.  By combining elements of classical, popular and improvised music, Liminal Space seeks to develop and present a contemporary alternative within the Houston community, and to serve as a bridge to connect those on the fringe, distanced by the boundaries of genre and style.  I went to their concert last night, and it was fantastic!  It spanned humorous, to powerful, to subtle, to complex.  In the December concert we will be performing a piece to Steve Reich's 2×5.  It's a bit of a beast.  I think I agreed to do this piece because I knew it was going to challenge me choreographically so much.  Look it up, and you'll see what I mean.
It's so funny, I thought we were going to have a relaxed fall so that I could focus on editing the next installment of Framing Bodies.  I was wrong.  Sometimes things come up and you have to jump.  Not to worry, I'm still working on Framing Bodies: SHAMED.  I'm just not editing 4 hours a day as I thought I would.  I'm thinking of a February premiere of that film.  Between Fashion and Blue Trees and Reich, we've got a lot to do!
Fall Fun, come join us at any and all of these events!   We really do love to see you.
To Art,
Lydia
Performances/Screenings