An Interview with the Woman behind American Flora
I feel like I have a secret.  If you're a dancer, runner, yogi, pilates aficionado, or like good-looking sports wear, you're always on the look for what's attractive and what works.   And here at Frame we are clothed in it.  It's American Flora.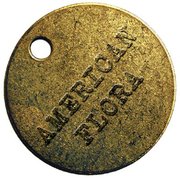 American Flora is Frame's sponsor for the series, Framed! at the Photobooth on Montrose.  Our first performance of the series is this Friday at 8pm.  If you're in Houston, it's at the intersection of Westheimer and Montrose.  Come see us, challenge your mind, and perpetuate creativity in our world.
American Flora has clothed the dancers in their eco-friendly, super fabulous and sleek dance wear for each of the four performances at the Photobooth on Montrose.
In yesterday's post I wrote a little bit about American Flora, but figured it would be best to get it straight from the source.  That's why we have this blog, isn't it?  Here we go, an interview with Mary Brewster of American Flora.
Hi Mary.  Please tell the readers a little bit about yourself and what led you to establish American Flora.
I've had dance in my life since I was eight, but stopped formal training as a teenager. I always wanted to return to ballet but found it hard to find classes that suited me.  I went to college for my BA and grad school for my MS in Art education, where I was involved in many movement classes. During the years that my three children were young I found a studio that was offering adult classes.  At age 40 I returned to ballet, got hooked and realized all the reasons why I had loved it as a child.  Soon after  returning, I started teaching young children and teens.  From there I segued  into teaching adults and that's really been my passion.  I've been teaching and dancing for 17 years, wearing all kinds of dance wear. Like most dancers, I'm very particular about the fit and comfort of everything I wear.  So… this coupled with the fact that I was very interested in  finding a beautiful recycled material, lead me to start my own dance wear company.
I soon realized that four leotards wouldn't be enough to satisfy my goal, so I extended the line by five more garments that would also appeal to yogis and women doing pilates or any kind of workout. Another thing on my list of core values for American Flora was manufacturing in the USA.
What makes American Flora unique?
What Makes American Flora unique is the attention to detail of all the things that relate to my line.  I  took a year to research and choose Repreve fabric- the most supple, soft eco fabric that fits the body in the most complementary way.  Customers tell me they feel like they're naked when they were my pieces.  I chose a  cut and sew manufacturer that has been in business for 120 years in Wilkes-Barre, PA. allowing me to  drive down there to discuss any bumps or additions in the production process.
I carefully chose names for my garments (all flowers) that I felt represented the garment.  All flower hang tags were designed and executed by a Brooklyn artist who's a close friend of mine.
Each card is a miniature piece of art. I package my garments with reusable material.  My brass tag with American Flora stamped in it is a big part of my brand identity. I encourage customers to use it to make jewelry, put on a key chain or whatever they like.
What are you passionate about?
I'm passionate about people, art, dance, design, learning, creating, teaching, gardening/flowers…and more.
What types of people wear your line, what environments is it designed for?
The people who wear my line are dancers, yogis, pilates enthusiasts, runners, spinners, skiers, working women (Jasmine Tank under a blazer) to name a few.  A large percentage of  women wear American Flora leggings for fashion.
Where can our readers buy American Flora and be stylin' like the Framers? 
All American Flora garments and my Tote bags can be purchased on my website www.americanflora.com.  At this time, my line is also being sold in select stores in Connnecticut, Maine and St. John, The Virgin Islands.
I named the company American Flora because everything is made in the USA .  Flora because of my passion for gardening and flowers and Botticelli's Flora, the goddess of flowers, representing beauty, perpetual growth and renewal of nature the way things were intended.
Some helpful link:
Uncategorized