An interview with Donna E. Perkins
I've mentioned Donna E. Perkins in earlier posts, but I wanted to give readers a glimpse of herself, her art and her involvement with Frame from her own perspective.  I asked Donna about her journey to becoming a professional artist, her current love for painting with color, and what it's like to collaborate with dancers. (And also where you can see her work!)  This is what she wrote:
As a child, young enough to stand in the pew, I was given paper and pencil to keep me still during church. I was given oil paints in junior high. I've been drawing and painting ever since. After years of being an art teacher and a social worker to support myself and my art, I'm now a full time artist.
I get excited by gutsy, edgy art, something with a bit of the raw to it. I'm fascinated by movement, by bodies, by plants and other organic forms.
I steal lines and choreograph them into abstractions. The structural lines for my drawings and paintings are collected from my reality. I love drawing from dancers dancing. While I focus in the edge of a dancer's body to begin a line, the dancer moves and my line takes off after that movement. I collect lines quickly and scatter them across the paper or canvas.
I love the line; I love the movement of the dance. My attention span is short and fragmented. I find getting lines to fit together as "one figure in the middle of a room composition" to be tedious. I really don't care about the room.
Color is terribly complex. I'm a bit terrified by it as it gets totally out of control in my paintings. There has been a certain safety and comfort in using only black and white for the past seven years.  Actually I was going beyond the restriction of black and white these past few years. I was using only graphite, clear gesso and white gesso, layers and layers of graphite and gesso. While I draw quickly, my painting process is slow and meditative.
After my show Entanglements at Archway Gallery in June of 2009, in which I had 32 black & white paintings, I wanted to try color again. My first efforts did not please me. Then I began to use color to stain the canvas before I drew. Next I tried to do my process with using graphite, one color, black and matt medium. Lately I've jumped into color with both feet – bright, bright, bright – in oil paint.
I love working with the dancers. Visually it's a treat to be so close. It's fascinating to see them develop new work. The speed at which dancers process movement astounds me. It takes me a moment to discern right from left.  I find my own body to be awkward and clumsy. Years ago I joked that in my next life I wanted to be a dancer. This is as close as I'm going to get.
My work is now in several places:
Archway Gallery, 2305 Dunlavy, Houston, www.archwaygallery.com
Bogan Gallery, 2217 Postoffice, Galveston, www.bogangallery.com
nv4living, 3040 Post Oak Boulevard, Suite 1440, Houston, 713-490-2684
Block 7 Wine Company, 720 Shepherd, Houston, thru August 2010
donna e perkins
Art Square Studios, 2711 Main @ Dennis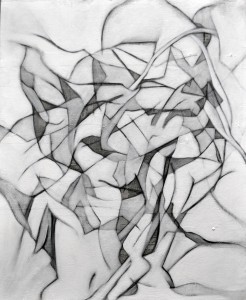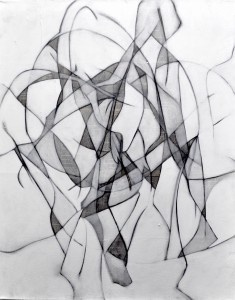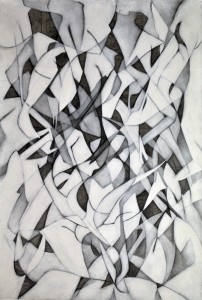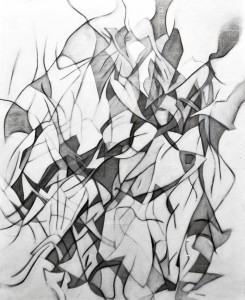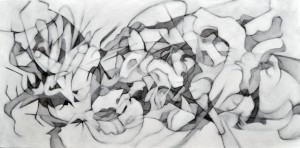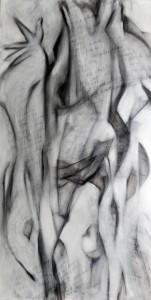 Uncategorized