Why Dance Matters
Hi Readers,
Check out the fabulous event hosted and founded by our very own Nichelle Strzepek.  If you believe dance matters, tell the world why this week.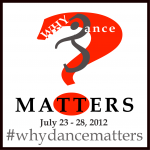 JULY 23 – 28
Why Dance Matters is a virtual event that rallies the dance community online to affirm the impact dance has on the lives of individuals and communities.
If you're on Facebook,  share and invite friends to take part!
If you're on Twitter:
Use that 140 characters to tell the world Why Dance Matters to you! Be sure to use the #whydancematters hashtag. You can start anytime but we want to see a flurry of tweets between July 23 and July 28.
If you're on Pinterest:
Follow the Why Dance Matters board and Repin as desired.
http://pinterest.com/nichelledances/why-dance-matters/
MORE WAYS TO PARTICIPATE HERE:
http://whydancematters.org/jump-in/
Uncategorized