Tuesday Tunes: Rosie Trump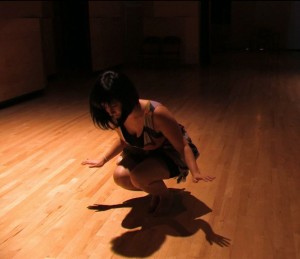 What music inspires you the most in the classroom; in the choreographic process? 
In the classroom, I live by Ray McNamara.  He has two albums Ray To Go and Ray to Go 2 Odd Times—run don't walk to buy these albums here!  I have been teaching to this music for over five years and still find it fresh.  It's indispensible for modern, creative dance, improvisation and choreography classes.
For choreography, I like to create and rehearse to music that has little to do with what I will eventually make.  I am a big fan of Motown.  I also like to shift between poppy dance music like Scissor Sisters and sad indie ballads from Iron and Wine.
When I am ready to set choreography to music, I usually have a few go-to artists like Múm, The Books, Colleen, and Matmos.
Do you have a 'secret weapon' song or artist when you need go-to inspiration?
Four Tet's music, especially the albums There is Love in You and Rounds, always helps me out of a rut.
Pick 5 tracks that should be on every dancer's iPod?
James Brown—Soul Power
Michael Jackson—The Way You Make Me Feel
R.E.M.—Stand
Adele—Rolling in the Deep
Aretha Franklin—Think
What are your top tracks to get the rehearsal process going?
Yeah Yeah Yeah's –Maps
The Dead Weather—60 Feet Tall
Amy Winehouse—Rehab
What are your three favorite tracks to teach a jazz class to?
Melody Gardot's– Who will Save Your Soul
Chris Issac's– Baby Did a Bad Bad Thing
James Brown– It's a Man's World
---
Rosie Trump holds a M.F.A. in Experimental Dance Choreography from UC Riverside.  She is a choreographer, dance filmmaker and educator.  Her teaching credits include Seton Hill University, Mt. San Jacinto College and Rice University. Trump is the founder and curator of the annual Third Coast Dance Film Festival and is Assistant Professor of Dance at the University of Nevada, Reno.  She is a Frame Dance Productions artist board member and "Tuesday Tunes" was originally her brainchild.
Tuesday Tunes