"…the hidden language of the soul"  – Martha Graham.
"…meditation in movement, a walking into silence where every movement becomes prayer." – Bernhard Wosien
"…the only art of which we ourselves are the stuff of which it is made." – Ted Shawn
"…for everybody. I believe that the dance came from the people and that it should always be delivered back to the people." – Alvin Ailey
"…the movement of the universe concentrated in an individual." – Isadora Duncan
"…strong magic." – Pearl Primus
I believe that dance, like all arts, is whatever you need or want or use it to be. However, the words above come from some of the most thoughtfully engaged people in the history of contemporary dance, and it is significant that they see dance as a spiritual and/or universal act. It must be acknowledged that sacred considerations are in the DNA of modern dance, whatever the beliefs of the dancer. In fact, I don't see how one would engage with modern dance without, on some level, confronting the Big Questions about why we are here and what differences our choices make. Dance is made out of the same physics that define all movement in our universe, and human decisions with the potentially to carry the finest nuance of meaning.
And perhaps something more, or perhaps to a higher purpose.
Sacred Dance in Houston
Planetary Dance at Hermann Park
This Sunday, June 2, 10 AM-12 PM in the field between the Houston Museum of Natural Science and the Miller Outdoor Theater at Hermann Park, Core Dance and Frame Dance host Planetary Dance 2019, the Houston chapter. This is the 39th iteration of the annual ritual dance originated by Anna Halprin in San Francisco, and we are lucky to have a local event to proclaim our intentions and join in the "group spirit" that can evolve out of participatory dance. Read about the origin story, the stages of the dance, and see a short documentary video here, and then register here, or just show up and join in this extraordinary "dance for a purpose."
SA LE O at the Museum of Fine Arts, Houston
Held on Sunday, June 9, at 2 PM, this "Concert of Profound Healing Through Music, Sacred Chants, and Meditation" features musicians from Tibet and Nepal and a sacred dance from the Bon tradition of Tibetan Buddhism, wherein "[i]t is taught that when performing ritual dance, you should discard all notions of your ordinary self and assume the divine pride of the deity whose dance you are performing." Tickets and information here.
Global Water Dances
On Saturday, June 15, all over the world people will be "dancing for safe water, for everyone, everywhere." This is the eighth year that this awareness-raising event has been put on by dozens of choreographers who select a local body of water and create a dance for the community that interacts with it. In June 2018, Frame Dance participated in Global Water Dances in front of the Houston Museum of Natural Science. Hundreds of Houstonians and visitors were touched by the project, and Frame Dance remains committed to careful and forward-thinking use of all of our natural resources.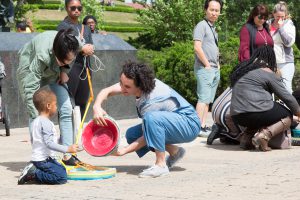 Ecstatic Dance in Houston
Ecstatic Dance Evolution hosts weekly (Sunday) "free-form sacred and conscious dance events"  for all ages and experience levels. It is an opportunity to dance without judgement and with the intention to connect more deeply to your own intuition and/or to a safe and supportive group of people.
Sacred Movements of Gurdjieff
The Gurdjieff Foundation of Texas – Houston chapter offers meetings around the "forms for study instituted by Gurdjieff such as practical craft work, cooking, discussion, exchange, and sacred dance." According to practitioner Chandrakala, "the learning process of the sacred movements is a strategy to develop presence and awareness; a reconnection, an alignment of the mind with the body and with the feeling center in such a way that they become one reality."
Maybe some of these ideas about dance feel very comfortable to you, or maybe they don't. Dance always requires that we use our bodies to confront the space around us. Maybe you will choose to comfortably or uncomfortably challenge yourself to make that confrontation with a sacred intention and just, maybe, see where that takes you.
Do you know of other sacred dance practices in Houston? Share them in the comments.
See you on the Hermann Park Lawn, Lovelies!