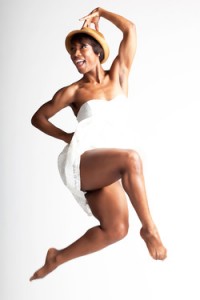 Tuesday Tunes: Courtney D. Jones
R: How do you envision the future of dance?
C: At one point I was a bit concerned about the future of dance based on what I've been seeing lately.  I've been doing quite a bit of teaching young dancers, and initially I was disappointed with seeing a lack of knowledge and a lack of interest outside of what's happening on reality television as it relates to dance or in the competitive market but I have come to realize and with help from my teachers and mentors, I'm understanding,  it's my job to educate them as much as I can, to give them all the options out there and to step back and let them make their decisions based on that information. I just spent 3 weeks teaching at Bates Dance Festival Young Dancers Workshop and found those young artists to have a refreshing outlook on what's currently going on for them in dance and what they see for their futures and I was pleasantly surprised that there was still an interest in concert and company work and that though many of them participated in competitive dancing, they were looking for more and were interested in studying dance in higher education and beyond. So I think, the future of dance as far as the next generation of young dancers coming up will be ok, now funding and support for this beautiful art, that is another discussion.
R: Where do you primarily teach?
C: The High School for the Performing and Visual Arts(HSPVA) and UH School of Theatre and Dance with a lot of guest teaching at numerous studios, intensive and workshops thrown in there.
R: How has dance influenced you?
C:Well it's my best language, movement I mean. I am learning to love my voice just as much as I love to move but there's no denying that dance is my language. It's the way I speak to people I love and people l don't even know.
R: What is on your playlist when teaching a class?
C: It depends on my mood and what I'm teaching but Currently for my Modern Dance playlist:
a lot of Peter Jones
Gotye "Somebody That I Used to Know"
Gnarles Barkley "Crazy"
Rene Aubry "Salento"
George Kranz "Din Daa Daa"
Robert Glasper "Ah Yeah"
Emily King "Every Part"
Victor Y. See Yuen "Percussion for the Dance Technique of Lester Horton"
Chris Cawthray
DJ Snake & Lil Jon "Turn Down for What"
---
photos by Lynn Lane
Named one of Dance Magazine's 25 to Watch in 2012, professional dancer, guest teacher and actress Courtney D. Jones is a Presidential Scholar in the Arts for Choreography and a graduate of the High School for the Performing and Visual Arts (HSPVA). She began her professional career in Miami, FL with the Freddick Bratcher and Company Contemporary Dance Theatre while attending New World School of the Arts.
Ms. Jones is a proud graduate of SUNY Purchase with a BFA in Dance Performance and a minor in Psychology, graduating with honors. As a student she performed the works of Jose Limon, Mark Morris, Doug Varone, Jacqulyn Buglisi, Roger C. Jeffrey, Michael Foley, Heather Maloney and Kevin Wynn. After graduation Ms. Jones continued to work with the Kevin Wynn Collection and joined Jennifer Muller/The Works where she taught and toured internationally for four seasons.
With a growing interest in theatre she joined the cast of Show Boat in 2008 accomplishing a long-standing goal to perform at Kennedy Center, Lincoln Center and Carnegie Hall and went on to join Broadway's First National Tour of WICKED in 2009.
In Houston, Ms. Jones enjoyed four lovely seasons from 2010-2014 with Hope Stone Dance Company where she was the Assistant Director of Hope Stone Dance II (h.s.d. II) and has been seen in productions at Stages Repertory Theatre; Auntie Mame, Panto Pinocchio, In the Next Room or the Vibrator Play, Failure: A Love Story, Houston Grand Opera; Show Boat (swing), Die Fledermaus, The Passenger (Movement Director) and Theare Under The Stars; Urban Cowboy the Musical and A Chorus Line (Lois/swing) . She is also a highly sought after consultant teaching company class for Hope Stone Dance, Houston Metropolitan Dance Company, SUCHU Dance, Rice University Rice Dance Theatre and Urban Souls Dance Company where she also served as a guest choreographer for their 2012 season.
Ms. Jones is an Adjunct Faculty member at the School of Theatre and Dance at the University of Houston teaching modern dance, she is a consultant in modern dance, composition and repertory at the High School for the Performing and Visual Arts while guest teaching at numerous universities, workshops and intensives. She is a proud member of the Actors Equity Association and is represented by A+ Actors of Texas.
*interview by Frame Dance social media intern, Rachel Kaminski