Performer Profiles!
The next Framer up telling us about her performing rituals is…
Name: Laura Gutierrez
First Frame Dance : To the Brim (Director's note: Laura! You were in Quiver first!)
One thing you always do when preparing for a performance: 
It's important for me to get a good nights sleep, eat a healthy meal and if I don't make it to a technique class I will definitely go to yoga.
After performance : 
Stretch, eat, shower and I try to make it a point to journal my performance experience. What felt good and how to achieve that feeling again if possible and if something didn't go as planned how to work on it for the next performance.
Fave moment in performance: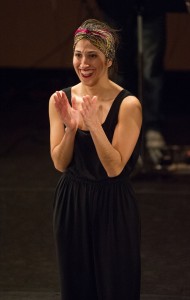 I was performing my senior solo in NYC both my sister and niece flew up from Houston to come to the performances. As I was performing my solo (which was about my niece) there was a moment that I looked into the audience and my niece was looking right back at me smiling and reaching towards me. It has happened a few times since where I perform and I make eye contact with family members or friends unplanned its a special feeling seeing those you love supporting you.
Thanks Laura!