Introducing Performance Anxiety, stories from the artistic trenches
Framers, we support you as dancers, as performers, as creators, and as risk-takers.  Toward that end, we asked some of our favorite creatives to share their risk-taking and anxiety-producing experiences, to give us a peek at their process through whatever they personally have to push through or float through or let wash over them to achieve their goals of art-making and art-sharing. We hope you find encouragement and recognition in their words.
First to share is Matthew Cumbie, a collaborative dance artist living and working in Washington, DC, originally from Houston, and an experienced multigenerational dance leader from his time in Liz Lerman's Dance Exchange. We are incredibly excited to welcome Matthew "home" this weekend as guest teacher at our MultiGen class on Saturday morning.  We are so excited to share Matthew's considerable talents, in fact, that we are opening Saturday's class to the public. Please contact Bobbie.Hackett@framedance.org to register.
Here is Matthew's story.
About Performance Anxiety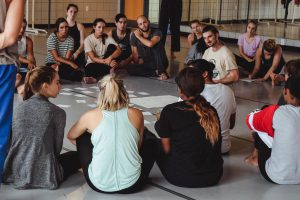 I like to think that, by nature, I fall more on the introverted side of a spectrum. Which I find interesting, considering that my creative practice is rooted in working with people of all ages and backgrounds, and across ideas and disciplines. It takes a lot of energy and focus to step in front of a room and facilitate a process that will foster enough curiosity, generosity, and imagination to move the room, no matter the size; to perform- if you will- in such a way that will bring me and these ideas and people closer towards collaboration. 
This past fall, I was on residency in South Carolina, making a new work with the Moving Body Dance Company and teaching at the University of South Carolina. Before stepping into my first workshop, I sat down in an empty studio to breathe and collect my thoughts and energy. I was about to feel a rush I only find from collaboration, and the thrill of discovering things together. And I knew I needed this moment. It didn't strike me until then, though, that this was my pre-performance practice. I sometimes imagine that the moment before stepping on stage, or starting a workshop, or leading a meeting- that this is what it must feel like to be launched out of a cannon or blasted into space. It's exhilarating, terrifying, and kinetic. I have come to know that, wherever I am and whatever I am about to do, I need a moment to turn into myself before I share myself with others.
When I was asked to write something on performance anxiety, I immediately began to wonder what I would write about. The more I think about it now, the more I think that we can find examples of this in all parts of our life. Because isn't this anxiety ultimately about sharing what we have with others, and doing the best we can with that? I'm reminded of one my favorite sayings by Liz Lerman: "The world is fragmented. I am not." 
About Matthew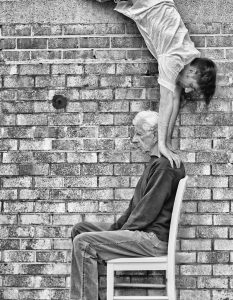 Matthew Cumbie (he/him/his) is a collaborative dancemaker and artist educator living in Washington, DC. His artistic research cultivates processes and experiences that are participatory and intergenerational, moving through known and unknown, and bring a poetic lens to a specifically queer experience. His choreography- considered "a blend of risk-taking with reliability, [and] a combination of uncertainty and wisdom," by Kate Mattingly- weaves together a physical vocabulary of momentum and clarity, revelatory moments, and a belief in a body's capacity to document and reflect back our lived experiences. 
He has danced in the companies of Christian von Howard, Keith Thompson|danceTactics Performance Group, jill sigman|thinkdance, Paloma McGregor|Angela's Pulse, and Dance Exchange- an intergenerational dance organization founded by Liz Lerman- where he eventually became an Associate Artistic Director and the Director of Programs and Communications. Currently, he creates work with Annie Kloppenberg, Betsy Miller, and Tom Truss, and collaborates with a team of multidisciplinary artists through Matthew Cumbie Projects; Matthew also dances for Christopher K. Morgan & Artists. His work has been commissioned and supported by places like Dance Place, the Kennedy Center, and Harvard University, and by the National Endowment for the Arts, the DC Commission for the Arts and Humanities, the Arcus Foundation, and the Somerville Arts Council. Originally from Houston, Texas, Matthew holds undergraduate degrees from Texas Lutheran University and Texas State University and an MFA in dance from Texas Woman's University.
Photo Credits, top to bottom: Photo by Jesse Scroggins, featuring Darryl Pilate and Matthew in Growing Our Own Gardens: Reminiscin' on Roots. Photo by Sarah Christine Nastoupil, featuring Matthew leading a workshop at the Texas Dance Improvisation Festival. Photo by Ben Carver, featuring Matthew and Thomas Dwyer in Dance Exchange's "New Hampshire Ave: This Is a Place To…"