HISD Gets Serious About the Arts, Dancers Get Serious About Pliés in Public Schools
Did you know that, until last week, Houston Independent School District's Fine Arts Department was organizationally administered by the Elementary School Curriculum Department? If that seems off to you given the caliber of talent at a place like HSPVA, you are not alone, but take heart because change is coming for arts education across the district. Interim Superintendent Granita Latham has promoted HISD's Fine Arts Department to a stand-alone department, reporting directly to the Chief Academic Officer. For teachers of music, dance, theater, visual and moving-image arts, this move is a resounding acknowledgement of what they see in the classroom every day: arts education makes a positive and far-reaching difference in the lives of our children and our community.
Frame Dance encourages arts educators, classroom teachers, school administrators, and parents to make your voice part of the discussion as the district develops arts programming under the newly advanced Fine Arts Department.
Frame Dance believes that the art and practice of dance brings unique, extensive benefits into a child's school day. We believe that every school that wants a dance program can and should have access to professional instruction that is smart, vibrant, and caring.
How auspicious that there is a film about impactful dance curriculum in the public schools screening at the Frame x Frame Film Fest!
PS Dance! is a docu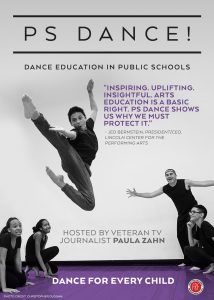 mentary about some of the most successful dance programs offered in NYC Public Schools under their Blueprint for Teaching and Learning in the Arts city-wide curriculum. The work being done by the students, instructors, and administrators in this film is a great example of what is possible when creative movement is prioritized in the public schools.
We invite you to watch the film on Saturday, November 21, 7 PM at the Houston Ballet, and then share your thoughts at a virtual round table discussion on the film and its relevance to dance programming in HISD. The PS Dance! Discussion Session is on Sunday, November 22, 2 PM and will be held virtually (contact kerri.lyons.neimeyer@framedance.org for more information). Guests include representatives from arts advocacy organizations, dance educators with HISD experience, and more professionals who are ready to inspire, inform, and listen.
Be heard.
Dance for All!