Does your mind feel jumbled?  Are you having a hard time identifying your emotions? Do you feel on edge or like your body has unspent energy?  Do you desire internal organization? Do you have something to say but not sure what it is?  I know exactly how that feels– not great.  We created a workshop that can help you find your realignment and leave you with tools for your own creative and physical practice.  Through dance, writing, and movement techniques, we want to help you find your voice, your stillness, and your power.
When I started the MultiGen Framers class, it was fairly new territory for me.  The very essence of this class is that it welcomes beginners to advanced dancers of any age.  So that's pretty open!  Teaching the class this Spring was an incredibly exciting balancing act of allowing adult beginner bodies to venture into new territory, keep the energy and flow high enough for children to stay engaged in modern dance technique that is true to the form, minus the extraneous physicality to keep the students working safely.  I am compelled to engage the brain as much as the body, and with different developmental capacities, there was a new challenge to find out how to do this.  Teaching MultiGen Framers was like a dream– challenging in all of the best ways, and rewarding in all of the best ways.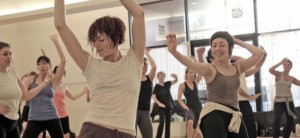 Something that did come up as I was teaching, was that due to the need to keep things moving along at a certain pace to keep the children connected to the work, I found myself wanting to spend more time than I could with the adults to help them journey into their bodies in a new way.  So… the Sunday Adult Workshops were born.  As someone who has always had an alternative somatic practice alongside my dance training, and desire to grow my spiritual self and investigate mindfulness, I wanted to offer this as a complete artistic experience for adults.  I believe in cultivating a creative practice alongside your dance classes because dance is more than exercise.  It is a means of connection between body, mind, and soul.  We must develop all three to be the artists that we are.
So these four workshops (take one, two, three or all four) involve a gentle, deep, and slow pace to experience two different somatic practices, modern dance technique, creative writing that will connect mind with body, and a beginning choreography class.    I hope you'll join us!  This is also a great entry point into joining the MultiGen Framers in the Fall.
Register Here.  Sunday Adult Workshops are funded in part by the Houston Arts Alliance, capacity building initiatives.