Steve Reich's 2×5 and Liminal Space
Hi Framers!
Well we had fun dancing at City Hall last night in the Mayor's Holiday Celebration.  Did you see us?  If not, you can see us on Channel 11 (Houston) on December 14 at 6pm right before Rudolph the Red Nosed Reindeer.  (Now that's some fab placement!)
The dancers were absolutely darling in this fun dance, and Alex was one fantastic Santa Clause.  The kids went WILD for him.
I can't believe our next show is this week!  This is the one you've been hearing me talk about regarding its complexity.  We are performing live with Liminal Space Contemporary Ensemble.  They have graciously invited us onto their concert and we are having so much fun.  Steve Reich is a heavyweight living composer, and I am really honored to be choreographing to his music.
I truly, truly think this will be a fabulous show.  Rob McClure is another composer on the program.  How could you forget this guy: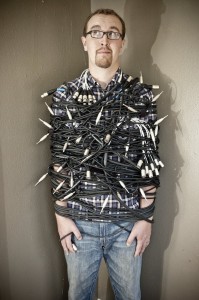 We miss him in China (off being a super important professor…) but we do get to enjoy his music!
And guess who else is in the show?  Mr. Mark Hirsch, composer for Quiver and partner-in-crime for FM (premiered at DiverseWorks and also in collaboration with Courtney D. Jones) is dominating the guitar on the Reich piece.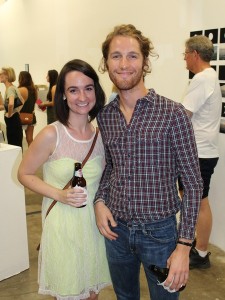 Love how it looks like he's trying to push me away in this picture.  Ha!
Dancers include: Jacquelyne Jay Boe, Laura Gutierrez, Ashley Horn, and Alex Soares.  It's basically a frametastic show.  Ashley Horn, as usual, has some tricks up her sleeve as costume designer.
The deets:
Wednesday.  The Barn. 7:30 pm.
Info and tickets here.  Get your tickets soon because they are significantly cheaper online than at the door.  Do it now!
Hope we see you there, we love our Framer Fans.
xoxo and to art,
Lydia
Performances/Screenings