Secret Message System
At the corner I've been noticing an old pair of shoes that were left just under the stop sign.  After a week of walking by them, I started to get used to them…they blended into the background.  Then, one morning, I noticed a Big Gulp-esque drink sitting IN one of the shoes.  I say "esque" because the closest 7-11 is about 100 miles away.  Then, this afternoon I saw this: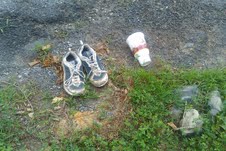 Is this some kind of non-verbal secret message system?  Curious.
Uncategorized