Real Time Responses from the Speakeasy
Hello! Happy Monday!
I have the live responses listed below from the Spacetaker Speakeasy.
In a later post I will dive into some specifics with these–what they've made me think about in regards to the piece, how they are influencing the creation of the piece…
I ask you:
Those of you who attended: do you have any further comments, or questions about the piece or the dialogue below?
Those of you who weren't at Spacetaker: what are your reactions to this dialogue? What do these comments make you think of? In other words, how do you imagine the piece considering these pieces of information and reflections?
Piece Begins.
Emergency…I am low on beer… Web 19:19:21
i always wonder when movement becomes dance Web 19:22:21
the sounds and movement reminds me of waking up on the beach, after being…. Web 19:22:46
I wasn't expecting the sound of the canvas Text (US) 19:22:57
Ooh she's getting her feet dirty Text (US) 19:23:03
Body print smear writhe Twitter 19:23:16
I feel relaxed Text (US) 19:23:28
i am feeling tired, like i want to go to sleep relaxed, calm Web 19:23:35
i feel impending doom…like something bad is going to happen…worried Web 19:24:14
if I tweet what I'm thinking the group will thinlk I'm shallow, which is insecure of me Text (US) 19:24:20
the crayons catch the gestures! Twitter 19:24:32
i feel like i need to say good morning Web 19:24:41
how choreographed are the lines? Text (US) 19:25:14
trying to fix something.. Move something.. Text (US) 9:25:18
feels like boats Twitter 19:25:30
i miss finger painting…think i need to get my set out Web 19:25:34
I felt symmentry/centralization with the center point on the single canvas.Text (US) 19:25:53
the drumming is hypnotic…something is wrong Web 19:25:56
hello back Web 19:26:13
wait, she just crossed a barrier and hit/touched the other canvas. Why? Now off! Text (US) 19:26:30
breaking out of the box…expanding Web 19:27:02
clicks and whirrs and tweets Twitter 19:27:24
i wonder what the cello/strings symbolize…wisdom, calmness, truth Web 19:27:26
This is the training of the multiple tasking viewer Text (US) 19:27:47
i feel like flying, like i want to take off..but i cannot…its frustrating Web 19:27:51
what motivated leaving the canvas? Text (US) 19:28:48
angular movement can be joyous…i feel joy, innocence Web 19:28:58
is that gunpowder? Will it explode from friction on the floor? #scrape #scrape Text (US) Wed, 19:29:14
Mindfulness & crayons. Force Text (US) 19:29:26
I feel sad that I haunt seen the move I helped create yet 🙂 Text (US) 19:29:30
feeling joyous, angular movement can be freeing Web 19:29:32
is that gunpowder? Will it explode from friction on the floor? #scrape #scrape Text (US) 19:30:04
i find myself wanting to find animals in the movements, but i can't so i imagine them Web 19:30:10
I feel inspired to stretch and see what my body can do Text (US) 19:30:25
I am interested in the gestures Text (US) 19:30:55
it reminds me of snow capped mountains Text (US) 19:31:03
the dancers transformed into the line particles n shades they started from.Text (US) 19:31:22
sometimes you don't think people would move like that– but what else could?Twitter 19:31:26
i find myself trying to create a story Web 19:31:31
there is a fine line between extreme anger and extreme joy Web 19:32:01
we are here for each other Text (US) 19:32:36
I thought you were trying to put a club beat to the end of your movements Text (US) 19:32:43
i am feeling selfish, this is about me, not you Web 19:32:45
finding I don't want to text, I want to watch. And still worried about the gunpowder Text (US) 19:33:37
supermodify walk twirl Twitter 19:33:50
its like jazz, in dance, with trains Text (US) 19:35:27
do they see eachother? Text (US) 19:35:31
silence is beautiful…but i feel scared Web 19:35:57
rt "do they see each other?" Text (US) 19:37:02
glad this wasn't interrupted with a train whistle solo. Twitter 19:37:29
conflict. Desire to watch. As "part" of the performance now group obligation comes up. Good/bad both. #obligations Text (US) 19:39:53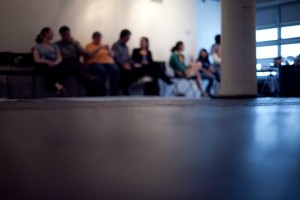 Uncategorized