Notes from the Director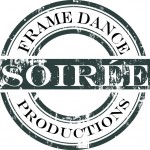 Hi Framers,
Happy Thursday.  We are almost there.  Power through, people.  Did you notice our wonderful Frame Dance Soiree logo?  First a shout out to Framer Jacquelyne Jay Boe whom you see performing with Frame Dance all the frickin time.  She's such a talented dancer, but she also does graphic design and I'm so pleased that she made our Soiree logo.  I can hear you thinking, "what soiree?"  Well, let me tell you.  You know those photos we have on our facebook page and on the blog with the Framers in those long blue skirts (made by Framer Ashley Horn)?  We are premiering that film on April 9.  But we're making it a party.  We like it like like that.
We will have a silent auction, drinks, games…(no, no games.)  No planned games anyway.
What is also super exciting is that composer Mark Hirsch is creating the score for the film.  If you follow us, you know that we're fans of new music and local composers.  So you'll get a treat with his music and our film coming together to make Quiver.  I'm editing now.  Oh you caught me, I am procrastinating now.  I edit best with quick brain breaks.  I like to consider it perspective, coming back into the work with fresh eyes.  I heard that chuckle.  Hey– don't judge my artistic process.
Check back in here and on facebook and jump into twitter too.
to art,
Lydia
Uncategorized