MFA Monday: Stressed about your thesis?
Observations that helped me create my MFA thesis
by Amanda Diorio
It will happen.
As those of us who have worked in show business are well aware "the show must go on."  It is amazing when you think about all that needs to get done in a production like an MFA thesis concert, but miraculously it all happens.  This was a helpful attitude to take when I was working on my own concert.  I had no idea how all the work would get done, but I knew that somehow it would all come together. And of course it did.  Remember this when you are at your wit's end and about to freak out about not finishing your work for the show.  One benefit of having a concert as a final project is that you have no choice but to get it all done. The dates have been set long in advance and cannot be changed.  This is one advantage that those seeking other kinds of terminal degrees do not have.  I have friends who have been working on their PhD dissertations for years.  The have no specific end time so it can be drawn out.  We, as performers, have the benefit of having a set date to be done by, a finish line to look towards.  When you are in the thick of it and your life has consisted of this crazy schedule for years it is hard to see the light at the end of the tunnel but remember grad school is not real life.  Your concert and your degree will happen.  Hang in there!
The project is still a part of the learning. 
While your final project is a reflection of your overall work in graduate school it is still a part of the learning process.  There is this sense that your thesis concert is representation of all your work in graduate school.  This is true to a point, but you are still in graduate school while you are creating it, therefore making it part of a whole and not a separate entity representing your entire MFA education.  As a first year MFA candidate it is easy to look at the Third Years that are settled in and comfortable in their working grove and think of them as finished products of the program.  But as any Third Year will tell you, they are still in the thick of it.  After your concert is over you will have to defend it to your committee and get an approval in order to receive the MFA.  As you create your work you will learn new and valuable lessons along the way, thinking of this time as part of the learning process instead of the representation of that process can help you keep an open mind in terms of your own work.  I found it extremely helpful to gather opinions from my committee members during this time just as I had done in my previous choreography classes.  In the end I think this made my show better than it would have been had I considered myself a full-blown MFA while I was creating it.  Keep the learning doors open all the way until graduation (and hopefully beyond) in order to get the most out of your MFA education.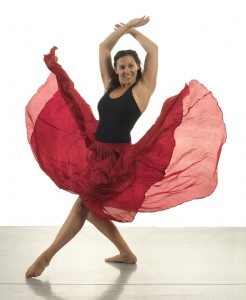 Amanda Diorio is an adjunct faculty member at UNC-Greensboro and Elon University.  She teaches adult classes open to the public at the North Carolina Dance Project where she is also a member of the board of directors.  Amanda holds an M.F.A. in Choreography from the University of North Carolina at Greensboro and a B.F.A. in Dance from Temple University. She has taught, produced, and choreographed dance extensively in Pennsylvania, New Jersey, Delaware, Virginia, Florida and North Carolina at universities, studios, public and private schools and community centers. Specializing in Contemporary, Jazz and Hip Hop techniques she enjoys spreading peace, love and understanding through her teaching of dance, choreography and culture.
MFA Mondays