MFA Monday: Lauren Ashlee Small
When Grad School Becomes Worth It
Part 1
Spring of senior year our classes were soon coming to a close. Before the southern heat would parade in full force, the spring weather was ideal for the occasional field trip outdoors for class. Spring of 2010 we experienced class in the studio, in the long carpeted hallway of the dance department, on the spiral wooden staircase of the Bitsy Irby Visual Arts and Dance Center, outside in the grass where the art majors often set up their easels, and in the soccer field we called, "The Bowl."
We were masters of our own destinies,
or so it felt, as we created adaptable warm-up routines for our individual movement needs. We threw in a dollop of modern floor and center work, a dash of yoga, and a hint of Pilates or any delicious ingredients we could get our hands on. We had been prepped with the warning that technique class could be a less frequent part of our day-to-day routine after graduation, and we might be responsible for giving ourselves a thorough class or warm-up on a regular basis. At the time, I didn't think much about the statement, but I would realize the truth of the admonition not more than a month after graduation.
After graduating a year early, I wanted some time to "get my life together."
My break turned into a four-year stretch
and might have lasted longer had not I discovered some things along the way. Everyone says don't stop after graduation. Continue to the next step of your education. I understand now why they say it. I felt like I lost a lot of momentum when I stepped out of the creative environment and didn't have the same creative resources at my fingertips at all times.
It wasn't just the loss of technique class that left me a little hesitant. Life after graduation is a completely different experience altogether! I had no set schedule, no daily classes, no full-time work experience, no prospects or job offers, and had only auditioned for one company in my life, the local ballet company that I had danced with in high school. I ended up in Phoenix, Arizona working as a nanny during a two month internship with an awesome organization called Free Arts of Arizona. During my four month stay in Arizona I took a whopping ONE technique class, and was left with a feeling of doom regarding the future.
I moved back home and stayed for about eight months. I took class, choreographed for the local company, taught at the studio where I grew up, and I believe I performed a few times during that season. At the time, it felt somewhat repetitious and a bit like a reenactment of my high school experience from a new perspective, but I was dancing again. In January, I auditioned in Chicago for some programs at The Ailey School on a bit of a whim and to my excitement was accepted. August 31st, I boarded a plane with two suitcases and a one-way ticket to the Big Apple. This move was to be my first time in New York City.
Stay tuned for Part 2 next week.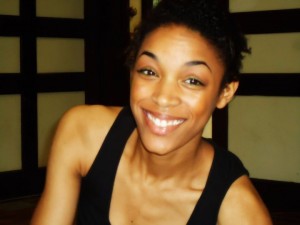 Lauren Ashlee Small is originally from Springfield, IL. Her training began at Springfield Dance and the Springfield Ballet Company and continued in college where she completed a Bachelor of Fine Arts in Dance at Belhaven University. Lauren went on to study in The Ailey School's professional division as a recipient of The Oprah Winfrey Foundation Scholarship and to perform with Amalgamate Dance Company and Dance Into Deliverance. Her choreography has been featured at The Ailey School, Belhaven University, American College Dance Festival, Undertoe Dance Festival at the 92nd Street Y, the New York Jazz Choreography Project, and in Amalgamate's 7th Annual Artist Series. Lauren has interned with Free Arts of Arizona and Amalgamate Dance Company and was a guest artist at the 2012 Teen Arts Performance Camp in Washington, DC and Emmanuel Ballet Academy's 2014 summer intensive in Juarez, Mexico.
MFA Mondays