MFA Monday!
This is the final installment from Sue Roginski! Enjoy! The Framers wish you a merry Monday to start the week! It's definitely not too late to

purchase your discounted tickets

 to our show this weekend, Ecouter!
————————–
Part 3 of 3
For some reason I was under the impression that after graduate school you would immediately pursue a job teaching in a college setting. This emerged as an unspoken expectation or perhaps something I concocted along the way.
job reality
I started the process of applying for jobs, specifically the full-time tenure track dance jobs in a college setting.
At this point I had a part-time job at a community college and was fairly settled in Riverside. It did not even occur to me to open up the geographic range of where I would begin the job search.
There might be more successful job search potential if you are willing to travel to another state. Nonetheless, I began seeking those full-time tenure track positions in state.
A few job applications began to lead to rejections.
side note
There are resources at school that enable you to always have a CV, cover letter and letters of recommendation on file, so that when a job becomes available you are already prepared to send those materials out.
job pieces
For whatever reason I did not take advantage of the school resource yet paid attention to job listing sites: HERC, Indeed, and the CCC Registry. Each time I applied for a job I would spend about two weeks gathering the pieces, and having contacts and colleagues write a letter or adapt an existing letter to speak to that job. I would typically create the cover letter to respond to a particular job listing. It seems the personal touch could be more effective.
I have had many thoughts throughout the full-time job search and process. Would I have better luck if I were a renowned choreographer (inside smile)? What if I could really fill all requirements of a certain job sometimes including the ability to teach ballet, modern, jazz, hip-hop, tap, dance history, somatic practices, dance pedagogy, dance theory, and specialize in a world dance form while trained in yoga or pilates?
There are rarely job listings that might speak to what honors you or your creative background specifically.
I don't think I could fake a jazz class to get the job (although my teacher told me that I most certainly could-inside laughter)!
adjunct appreciation
Seven years post the MFA degree, the life of an adjunct has grown on me. I have had the opportunity to be in several communities at the same time and to move amongst a diverse group of individuals studying dance. I have witnessed the varied styles that full-time faculty bring to a program.
As an adjunct I am able to continue creating work and immersing myself in multiple community dance projects. A teacher of mine in college chose to be an adjunct because she just wanted to teach. Another professor I know retired because he "was overwhelmed with paperwork and just wanted to teach".
What I have discovered as a dance artist and teacher piecing together the parts is that the possibilities for other ways in which to engage in a dance field are unlimited.
——————
Sue Roginski graduated from Wesleyan University in 1987 with a BA in Dance and from the University of California Riverside in 2007 with an MFA in Dance (experimental choreography). She is a teacher, choreographer, and performer who has produced her own work as well as performances to benefit Project Inform, Breast Cancer Action, and Women's Cancer Resource Center. In the past few years, Sue has had the opportunity to share choreography at Anatomy Riot (LA), Highways Performance Space (Santa Monica), Unknown Theater (LA), AB Miller High School (Fontana), Culver Center of the Arts (Riverside), Society of Dance History Scholars (conferences '08 and '09), The Haven Café and Gallery (Banning), Back to the Grind Coffee House (Riverside), Heritage High School (Romoland), KUNST-STOFF arts (SF), and Riverside Ballet Arts (Riverside). She also has been privileged to dance and perform with Susan Rose and Dancers since 2005. Sue teaches at Mt. San Jacinto College and Riverside City College and divides her time between Riverside and San Francisco where she had a ten year career as dancer and collaborator with the Margaret Jenkins Dance Company. Sue performs with Dandelion Dancetheater (Bay Area based ensemble) and Christy Funsch (SF dance artist) whenever possible, and in 2010 created P.L.A.C.E. Performance (a dance collective) with friend and colleague Julie Satow Freeman. Her ongoing creative process infuses choreography with improvisation.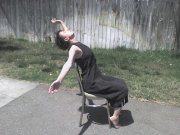 MFA Mondays