MFA Monday!
Happy Monday Framers!
We hope your week has started on the right foot, but either way this post from

Sue Roginski

will have you reflecting and reveling in whatever the week has in store for you. MFA Monday features reflections from Master of Fine Arts holders and Sue is a standout among the masters! 
———————
Part 2 of 3
MFA dance programs bring teachers/professors/mentors rich with information, creative talent of course, experience, and support. These important individuals are more than a pleasant perk and can offer serious guidance (beyond school-real life stuff included) at times in a challenging program.
Once you finish graduate school and become a "master", the re-entrance to the art/dance/performance/teaching/professional world can get very lonely.
Shyness
(note to self…don't be shy)
I think one of the most difficult things for me in graduate school was the fact that I had a hard time, and I mean a really hard time putting any kind of work: be it written-choreographic-fragmented ideas or investigations "out there" for feedback. Sharing creative stuff can wreak havoc on the sense-of-the-artist-self.
I've had many a conversation with grad school friends (pre and post) regarding the vulnerability that is felt when sharing choreography or just putting work out into a public space/arena. Once it is out there it is immediately exposed to critique, praise, dialogue, exposure: in other words… it becomes a potential thing/entity for CRITICISM.
Feedback
It can be intense and can feel like one of the riskiest compromises of self and to self-confidence.
On Feedback
During the process of creating the MFA project my committee chair/professor and mentor Susan Rose reminded me that all individuals viewing rehearsals would have quite varied and different sets of feedback. I remember she said, "Try not to have everyone in the studio at the same time". This was an interesting concept to me. Whispering to myself a thought: I actually could choose what feedback would work for the project. I did not have to absorb and utilize all of the notes that were offered to me? Susan reminded me to sift out what was necessary for the work. I could then insert that feedback into my own process.
Seek out feedback
In a year (second year thought) you will be out there on your own, so seek out mentors-teachers-professors during your grad school experience.
Experiment
Try something in your work and choreographic process you may not try otherwise. After all you are inside (where?) the safe walls of an academic institution.
This is the time to try something and fail.
Fail…I know that word is loaded with negative connotations, but graduate school is a space where those misses or failures can be discussed and analyzed and given some important time. The mentors love to be in on your process/project.
Luxury of time
Time goes by so quickly in this space: grad school place
My advice is to remain in contact with your mentors.
They will most definitely want to know what you are working on after graduate school.
—————————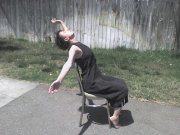 Sue Roginski graduated from Wesleyan University in 1987 with a BA in Dance and from the University of California Riverside in 2007 with an MFA in Dance (experimental choreography). She is a teacher, choreographer, and performer who has produced her own work as well as performances to benefit Project Inform, Breast Cancer Action, and Women's Cancer Resource Center. In the past few years, Sue has had the opportunity to share choreography at Anatomy Riot (LA), Highways Performance Space (Santa Monica), Unknown Theater (LA), AB Miller High School (Fontana), Culver Center of the Arts (Riverside), Society of Dance History Scholars (conferences '08 and '09), The Haven Café and Gallery (Banning), Back to the Grind Coffee House (Riverside), Heritage High School (Romoland), KUNST-STOFF arts (SF), and Riverside Ballet Arts (Riverside). She also has been privileged to dance and perform with Susan Rose and Dancers since 2005. Sue teaches at Mt. San Jacinto College and Riverside City College and divides her time between Riverside and San Francisco where she had a ten year career as dancer and collaborator with the Margaret Jenkins Dance Company. Sue performs with Dandelion Dancetheater (Bay Area based ensemble) and Christy Funsch (SF dance artist) whenever possible, and in 2010 created P.L.A.C.E. Performance (a dance collective) with friend and colleague Julie Satow Freeman. Her ongoing creative process infuses choreography with improvisation.
MFA Mondays