MFA Monday
The last installment of MFA Monday by Frame dancer Laura Gutierrez!
Laura was recently mentioned in the Top 25 Dancers to Watch in Dance Magazine!
Congratulations Laura!!!!
Check out her reflections on whether or not to attain a Master of Fine Arts!
———————
I was talking to Brandon one night, and he told me about the moment when he knew he had made the right decision in returning to school to get his MFA. (I would tell you more, but I don't want to blurt out someone else's business!) I thought about this and realized I'm not ready to go back to a strict academic environment.  Although I do miss the daily grind of technique and composition classes– not to mention the secured performance opportunities– it's crucial for an emerging dance professional to create his or her destiny.
Dodging MFA school set me full speed ahead on a course where I'm figuring out that in order to be an independent artist you have to become your own executive director, managing director, company manager, and agent.  Performing under choreographers, working at Hope Stone, Inc., teaching at HSPVA: this mishmash of practical experience might prove more valuable and just as important as going to grad school for Dance.
Last week I read Sydney Skybetter's article and the following passage jumped out at me:
"The world you thought you were entering is long dead, and none of the old (anti-intellectual, super-sexist, super-classist and SUPER-racist) rules of dance history need hold true for you. So go forth. The search for new ways of moving, dancing and sustaining a career is ON.
The dance world today is not the same as the one I grew up hearing about and wanting to be a part of.  I'm just now at a point where I've learned I can mold my career the way I see fit.
———————–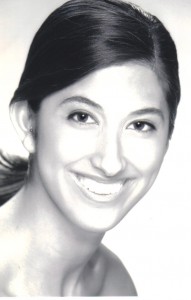 Laura Gutierrez is a graduate from the High School for the Performing and Visual Arts and received her BFA in contemporary dance from the University of North Carolina School of the Arts. A recipient of a 2009-2010 William R. Kenan, Jr. Performing Arts Fellowship at the Lincoln Center Institute, she presented her choreography The World Within in the Clark Theater. Since returning to Houston, she has been a part of Texas Weekend of Contemporary Dance, Big Range Dance Festival, Hope Stone, Inc's emerging artist residency HopeWerks. She was also a part of Tino Sehgals installation in the Silence exhibit at The Menil Collection and most recently performed in Study for Ocupant choreographed by Jonah Boaker at Fabric Workshop Museum in Philadelphia and Frame Dance Productions. Currently she is on Adjunct Faculty at HSPVA and is the Office Manager/HopeWerks Director at Hope Stone, Inc.
MFA Mondays