MFA Monday
Got a case of the Mondays?
Well, this will surely lift your spirits! Another installment of musings from Master of Fine Arts holder, Heather Nabors! Enjoy!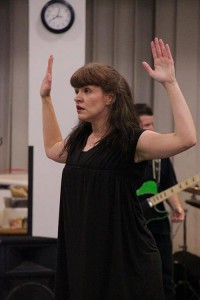 Heather Nabors is the Assistant Director of Dance Programs at Rice University. Heather relocated to Houston this summer from North Carolina. Heather has been a teacher and freelance choreographer in NC since 2005. She served as an adjunct faculty member at Catawba College, Greensboro College, Elon University, and UNCG. In 2012, Heather founded ArtsMash, a collaborative arts concert in NC. Her work has been presented at ArtsMash, The Saturday Series, UNCG Dance Department Alumni Concert, Greensboro Fringe Festival and the American Dance Festival's Acts to Follow. She has choreographed over 14 musicals in NC for community theaters and local high schools including Rent, Oklahoma! ,The King & I, Legally Blonde, Little Shop of Horrors, and Children of Eden. Heather received her MFA in Choreography from The University of North Carolina at Greensboro.
Stop,

Collaborate,

and

Listen
I am an only child. When I was seven, my favorite t-shirt exclaimed "I'm the boss" in 70's iron on fabulousness. I did not enjoy sharing my toys with my younger cousin. I did not appreciate being told what to do by anyone. I would create countless dances in my bedroom and force my mother to watch every last one of them.  It took a little while, but eventually I grew out of this self-centered phase (well, for the most part) and over the years, I have learned how to work quite well with others.
One of the best lessons I have learned from my work in musical theater is the art of collaboration. As a choreographer, I am used to being in charge. It is my dance and I make the final decisions. ("I'm the boss," remember?) When I am choreographing a musical, artistically, I am the low woman on the totem pole. I have been fortunate to work with good directors who respect my opinion, but I know that if my choreography interferes with singing or action on the stage, I have to rework it. The music and dialogue are set, so I have to be flexible. I have a healthy ego, but I know when to leave it at the door. It is a trait that has served me well and has allowed me to continue working.
My graduate school did not have a combined performing arts department and I don't remember any department co-mingling or collaboration. The only non-dancers I saw enter the dance building were the pianists who accompanied our technique classes. One semester, I ventured out a bit and took an art class with a fellow dancer. We were the only non-art majors in the class and our classmates regularly spent class staring at us as if we belonged to some exotic species of bird. Unfortunately, I never considered venturing to the music building and asking a music student to write a piece for me. When I first experienced the intense collaborative process of putting together a musical, I realized what I had been missing. I had always enjoyed the feedback process offered in choreography class, but I had never worked with anyone outside my field. It was refreshing to get a non-dance perspective on things and bounce ideas off other artists with radically different backgrounds.
A few years ago, I met a lovely musician and asked him to create a score for me. This collaboration was one of the most exciting and frustrating experiences of my life. I am a task driven list maker. My partner for this collaborative process was a little more laid back. I had to develop a new set of skills that allowed for freedom on both ends and didn't squash his or my artistic voice. I also had to loosen the reins and put faith in his ability to create something that enhanced my work and expressed his point of view.  I videotaped my rehearsals and we viewed them together. I tweaked my work to fit his notes and he found the nuances in my movements and used that to fuel his writing. The piece turned out well and I loved this collaboration so much that I am marrying the composer. (I can now have free music whenever I want it! Yay!)
As choreographers, we can become isolated and lose our sense of community and collaboration. It is easy to get tunnel vision and miss connections with other artists that can inform and reinvigorate our work. Furthermore, I have seen many choreographers lose jobs and burn bridges because they never learned to play well with others. Use your graduate school experience to form partnerships outside the dance community. Collaborate with painters, musicians, filmmakers, and mimes. Take in all the art on your campus and let that fuel your creativity. It is great to be surrounded by a supportive group of dancers, but there is much to be learned from artists in other disciplines as well.
MFA Mondays