Frame Dance is Back!
Framers, get ready to wash away those mid-week blues. Yesterday afternoon I had the opportunity to sit in on the dancers' first  rehearsal this summer, so I can share a few fun details with you!    
Frame Dance Rehearsal 
When I first arrived at the studio, I was delighted to meet the Frame Dancers in person. The dancers in rehearsal were Jacquelyne Boe, Alex Soares, Ashley Horn, Danielle Gonzaba, and Shanon Adams. Before dancing, we took the time to have a relaxing check-in, and the dancers shared their favorite Frame related memories. After our sharing and fun walk down memory lane, Lydia Hance led the dancers through an energetic warm up.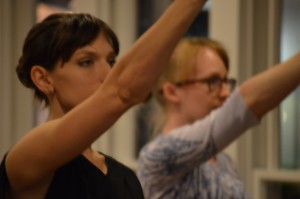 Afterwards, they were given an exercise to physically spell a quote through dancing. In each dancer's way, they expressed the meaning of the words with fluid and also sharp movements, and with grace and emotion. They each spelled "Give me silence, water, hope; give me struggle, iron, volcanoes." Watching the dancers was a wonderful example of artists working together to create something even greater. Every smaller exercise the dancers worked on was connected to make a larger piece of choreography. I loved having the chance to observe rehearsal, and I am going to continue to do so in the future.
by Rachel Kaminski; photo by Jonathon Hance
Uncategorized