Eat Well Wednesday!
Creamy Salad dressings don't have to be full of saturated, trans fat, and bad for you.  Sure Kraft Ranch dressing is creamy and pretty yummy when dipping chicken fingers or dressing your salad.  However, it is full of trans fat, chemicals, artificial coloring and preservatives.

Check out this nicely dressed salad.
Homemade Creamy Chipotle Salad Dressing
Ingredients
2/3 cups Plain Greek yogurt
1/3 cup Cilantro, finely chopped
1 teaspoon Ground cumin
1 teaspoon Chili powder
4 teaspoons Lime juice
1/4 teaspoon Garlic powder
1/4 teaspoon Salt
Directions
| | |
| --- | --- |
| Step 1 | Add all ingredients into a bowl and mix well. |
| Step 2 | Wash and chop romaine lettuce, add chopped onion, and tomatoes. |
| Step 3 | Pour dressing over salad and toss well.Top with grilled chicken and sliced avocado for a yummy, well-balanced meal. |
This is a wonderful alternative to mayo and sour cream based dressing and because the Greek yogurt is fully packed with protein. There are endless possibilities for this dressing! Change-up the flavoring by adding some dill and onion powder or a great veggie dip.  Put a dollop on a baked sweet potato for a creamy substitute to sour cream and butter, or make a savory spread with chives and onion powder to spread over a whole wheat bagel.
Enjoy the possibilities and Be Well 🙂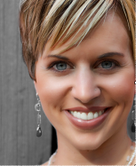 Jill Tarpey is leading us Wednesday by Wednesday into making better food choices and being more healthful. Tune in every Wednesday to get some great recipes and advice from someone who really knows health. In an effort to fuel her passion to serve as well has enhance the lives of others through their nutritional choices, she started Eat Well SA(San Antonio). Her vision is to educate you on how to incorporate a healthy array of foods into your life. Eat Well is not a diet, nor does it embrace any one specific dietary agenda. She also offers customized programs that are educational and teach you the tools you need to maintain healthy, well-balanced eating for your busy lives.
Eat Well Wednesday
Uncategorized