Eat Well Wednesday: Blueberry Muffins!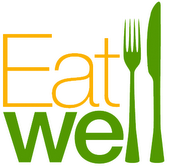 Love blueberry muffins?
With berries fresh in season right now, it is the perfect opportunity to whip up these little blueberry treats for you and your family!
Thanks to the applesauce, we are able to omit some of the saturated fat from traditional oil used in baking.  These muffins also have some whole grain benefits thanks to the whole wheat flour that replaces the traditional white flour.
These would be a perfect snack or part of a healthy breakfast.  Bake up a batch, freeze them, pull them out as you need them.  Pair with some greek yogurt and almonds and you have a perfect well balanced breakfast that will fuel you through your morning.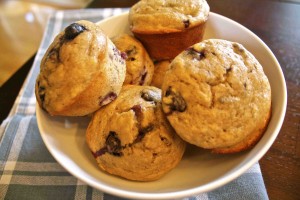 Ingredients
3/4 cups Low fat buttermilk
3/4 cups Light brown sugar
1/4 cup Applesauce, unsweet
1 cup Mashed bananas (about 3 medium bananas)
1 1/4 cup White whole wheat flour
1 cup All purpose flour
1 1/2 teaspoon Baking powder
3/4 teaspoons Cinnamon
1/2 teaspoon Baking soda
1/2 teaspoon Salt
1/4 teaspoon Ground nutmeg
1 1/4 cup Blueberries (I used frozen)
2 large eggs
Directions
Pre-heat oven to 400 degrees.
Prepare 12 muffin liners in muffin tin or spray tin with non-stick cooking spray.
In a medium bowl, whisk together buttermilk, sugar, applesauce, eggs and bananas in a separate bowl, whisk together flours, baking powder, cinnamon, nutmeg, baking soda, and salt
Add the dry ingredients to the wet ingredients and stir with a rubber spatula until well combined. Carefully fold in blueberries
Divide batter out into muffin tins and sprinkle the tops with a few extra blueberries
Bake for 20-25 minutes or until toothpick comes out clean.Now it's time to ENJOY!!
Eat Well. Live Well. Be Well.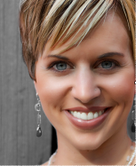 Jill Wentworth is leading us Wednesday by Wednesday into making better food choices and being more healthful. Tune in every Wednesday to get some great recipes and advice from someone who really knows health. In an effort to fuel her passion to serve as well has enhance the lives of others through their nutritional choices, she started Eat Well SA(San Antonio). Her vision is to educate you on how to incorporate a healthy array of foods into your life. Eat Well is not a diet, nor does it embrace any one specific dietary agenda. She also offers customized programs that are educational and teach you the tools you need to maintain healthy, well balanced eating for your busy lives.
Eat Well Wednesday
Uncategorized