Eat Well Wednesday!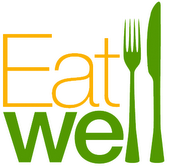 We love favorable food!
It keeps things interesting and it's always fun to play around with different flavors to see what you can come up with.  Living in San Antonio, means that we are surrounded by tons of Mexican food restaurants. We love to cook Mexican inspired dishes; enchiladas, taco salad, fajitas; and all make an appearance on our dinner plates.
To be honest with you despite the abundant Mexican restaurants here, my husband and I are not huge fans of eating out for a couple of reasons. One because we don't know what is actually going in the food and the quality of the ingredients that are used. And second because it can be really expensive to eat out all the time. I would rather invest that money in quality, real food that we can prepare and enjoy ourselves. Just my feelings on eating out though, I know a lot of people rely on it because of busy schedules and they enjoy eating out. I firmly believe though that doing a little meal planning and prepping means meals don't have to be a burden and can often be cooked, consumed, and kitchen cleaned in the same amount of time as sitting down for a meal at Chili's.
So that is a little peek into our lives, lets' get down to business and learn how to make your own taco seasoning.
First off, take a look at the ingredients for store-bought Taco seasoning packets. Spice and coloring is the first ingredients. Coloring?!  You also have some MSG and modified food starch. Umm….no thank you.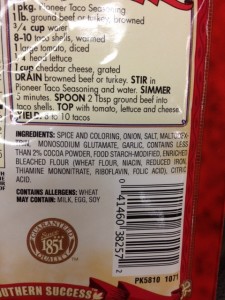 Instead, gather these common pantry seasonings and make your own.
When a recipe calls for (1) packet of taco seasoning, I use about (4) Tablespoons of this homemade seasoning.
It is really simple.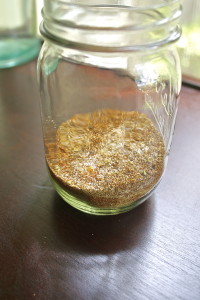 If you don't already have these spices on hand, I suggest checking out the bulk spice section at your local grocery store. Spices can be expensive and while they don't really go bad, it is so nice to be able to buy only what you need. There are a lot of times that I only pay .20 cents for a new spice I want to try in a dish or one that I don't use very often and don't want to spend $6.00 on a whole jar.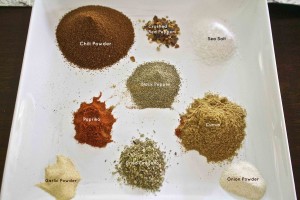 Homemade Taco Seasoning Ingredients
4 tablespoons Chili powder
1 teaspoon Garlic Powder
1 teaspoon Onion Powder
1 teaspoon Crushed red pepper flakes
1 teaspoon Dried Oregano
2 teaspoons Paprika
6 teaspoons Cumin, ground
4 teaspoons Sea Salt
4 teaspoons Black Pepper
Combine all of these spices in a jar or small container and mix well.
When a recipe calls for (1) packet of taco seasoning, I use about (4) Tablespoons of this homemade seasoning.
Use to flavor your taco salad, fajita meat/ vegetables, soups, anything really!
Do you use pre-made spice packets or do you create your own spice mixture?  
Leave a comment below!
———————————-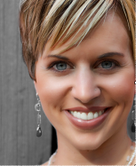 Jill Wentworth is leading us Wednesday by Wednesday into making better food choices and being more healthful. Tune in every Wednesday to get some great recipes and advice from someone who really knows health. In an effort to fuel her passion to serve as well has enhance the lives of others through their nutritional choices, she started Eat Well SA(San Antonio). Her vision is to educate you on how to incorporate a healthy array of foods into your life. Eat Well is not a diet, nor does it embrace any one specific dietary agenda. She also offers customized programs that are educational and teach you the tools you need to maintain healthy, well-balanced eating for your busy lives.
Eat Well Wednesday
Uncategorized