Eat Well Wednesday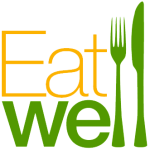 Are you following the gluten-free trend?
While we are not diagnosed with Celiac or any other serious digestive issues, my husband and I are doing an experiment by eliminating gluten from our diet. I have never been one to consume very much of it, but he did and has been experiencing some digestive and allergy issues. To try to restore health back into his life, we are going gluten-free for the next couple of weeks. Hence, the new gluten-free recipe!!
These muffins are not too sweet, in fact my husband said they could use a bit more sugar. I, on the other hand, think they are fine just the way they are, so I will let you and your family make that judgement call.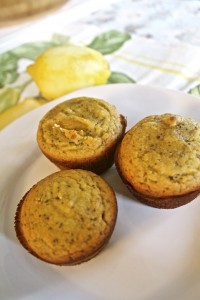 To make these not too sweet lemon gluten-free poppy-seed muffins you need:
1/4 Cup Coconut Flour
1/4 Teaspoon of salt
1/4 Teaspoon of baking soda
3 eggs
1/4 Cup agave nectar
1/4 Cup grape seed oil
1 Tablespoon of lemon zest
1 Tablespoon of poppy seeds
What you do:
Combine the coconut flour, baking soda, and salt into a bowl.
In a separate bow, beat together the eggs, agave, grape seed oil and lemon zest.
Fold the dry ingredients into the wet ingredients and mix until well combined.
Stir in the poppy seeds.
Spoon batter into (6) lined cupcake tins.
Bake at 350 for about 13-15 minutes, mine too a little bit longer
Let cool and enjoy!
Let me know if you know of any other good gluten-free recipes, I would love to try them!
Eat Well. Be Well.  Live Well.
——————————————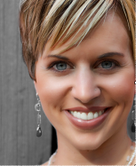 Jill Wentworth is leading us Wednesday by Wednesday into making better food choices and being more healthful. Tune in every Wednesday to get some great recipes and advice from someone who really knows health. In an effort to fuel her passion to serve as well has enhance the lives of others through their nutritional choices, she started Eat Well SA(San Antonio). Her vision is to educate you on how to incorporate a healthy array of foods into your life. Eat Well is not a diet, nor does it embrace any one specific dietary agenda. She also offers customized programs that are educational and teach you the tools you need to maintain healthy, well balanced eating for your busy lives.
Eat Well Wednesday
Uncategorized